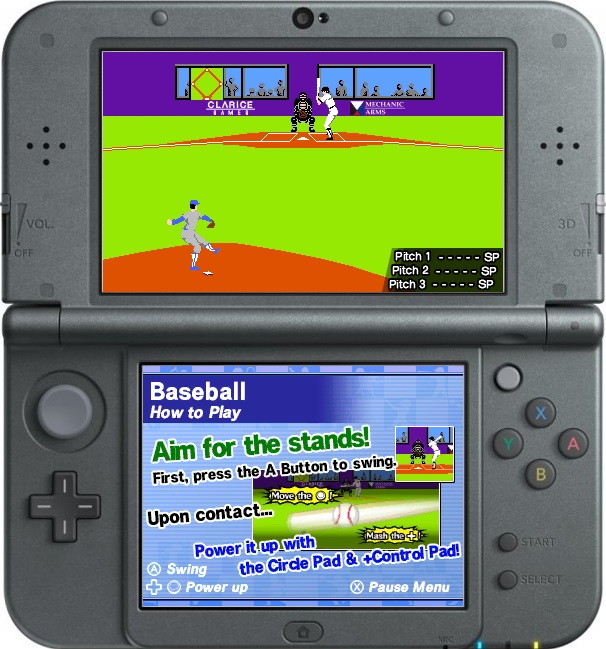 Rainy Frog is localizing Mechanic Arms' 3DS eShop game Mini Sports Collection. It's due out on March 9 in America / Europe / Australia / New Zealand.
Mini Sports Collection has players competing for the best times and scores in twelve different sports. Tennis, Archery, Baseball, Wrestling, Hammer Throw, Table Tennis, Fencing, Skeet Shooting, Soccer, 100m Sprint, Rugby, and Speed Skating are included.
Here's a brief overview and trailer:
"Mini Sports Collection focuses on the fun part of each sport throwing you straight into the heart of each one!
Bat in Baseball, shoot clay targets in Skeet Shooting, take down opponents in Wrestling, smash the ball in Tennis!

Quick reflexes, fast button presses and accurate controls are required to make the highest rankings and succeed in 24 different achievements. Compete in solo events or try multiple event tournaments!"
Rediscover the thrill & challenge of epic dungeon-crawling RPG adventure in Excave on Nintendo 3DS!

Krakow, POLAND – The game publisher, Teyon, and the Japanese developer, Mechanic Arms, proudly announced today the release of Excave, a dungeon-crawling RPG adventure for Nintendo 3DSTM. The game will become available in the Americas in the Nintendo eShop on February 19th, 2015 for $4.99, with the European release following soon.

Imperial City is at war! The King needs you to explore the perilous and ancient Labyrinth beneath the city – find out why this mysterious magical laboratory now spews out an army of powerful monsters bent on destruction, and descend to its lowest depths to rescue the missing Magician.
Triumph in a test of your weapons & magic, or perish trapped deep within the twisting halls of the Labyrinth. Explore, fight and win fame & fortune, then return to the city above to heal, identify fabulous treasures and repair & upgrade your equipment. Are you brave enough to explore the treacherous depths?
Game Features:
• Classic dungeon exploration RPG from Japan
• Choose and fully customize your character with hundreds of treasures and equipment items to collect, modify, upgrade, repair and sell
• Test your courage & skills against hundreds of unique enemies
• 50 terrifying dungeon levels to explore, with 5 massive boss fights
• Progress through an epic storyline to develop your character's abilities in true RPG fashion

or head to the official website for more information:
http://www.teyon.com/games/excave-3ds

About Teyon
Teyon is a developer and digital publisher of video games for major platforms. Established in 2006 in Krakow, Poland, it has since expanded creating offices in Lodz, Poland and Tokyo, Japan, employing over 70 gaming enthusiasts. Using proprietary cross-platform technology, Teyon has been able to successfully release over 100 self-developed titles as well localize many more. For more information, visit www.teyon.com.

Twitter: http://twitter.com/TeyonGames
Facebook: http://facebook.com/TeyonGames
YouTube: http://youtube.com/TeyonGames
Google Plus: http://google.com/+Teyon
Banana Bliss: Jungle Puzzles is launching on the 3DS eShop next week, Teyon has announced. The game will be available in both North America and Europe for $3.99 / €3.99 respectively.
Banana Bliss: Jungle Puzzles is an action puzzler developed by Mechanic Arms, which has players guiding Morris the monkey through the dense jungle canopy of Paradise Island. You'll need to collect all the scattered hearts for Molly – Morris' companion.
Players who find the invisible banana in each stage can unlock extra stages. Jungle critters will attempt to interfere with your hunt for hearts and bananas along the way.
Banana Bliss: Jungle Puzzles includes the following features:
• Swing through over 300 puzzles in 7 jungle-inspired worlds
• Climb and interact with boulders, bars and other items to clear each puzzle
• Avoid or destroy the jungle critters that roam aimlessly around the jungle
• Earn a Banana Bonus in each level to save the level's replay and watch it back with Playback
Source: Teyon PR