Tetris 99 announces 25th Maximus Cup with Monster Hunter Rise theme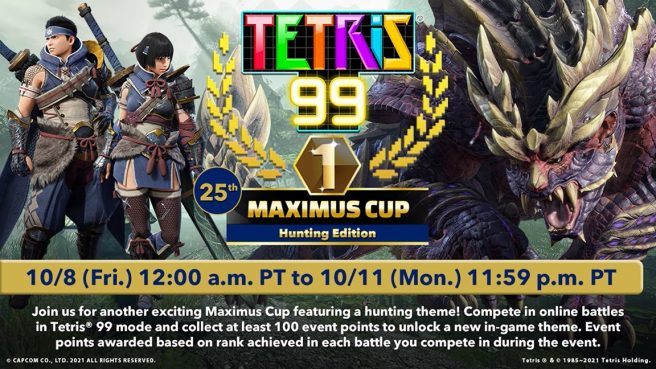 Tetris 99 is teaming up with Monster Hunter Rise for its next event, Nintendo has announced.
The game's 25th Maximus Cup will be going live later this week. When it's active, players will have a chance to earn a theme based on Monster Hunter Rise. Themes in the game have typically been first-party, to it's interesting to see things being changed up here.
As we've seen in the past, Tetris 99 will have blocks themed around Monster Hunter Rise, along with the overall layout. Fans will also be able to listen to some memorable music from the game.
Here's a trailer showing what players can expect in just a few days:
Last month, Tetris 99 held a Maximus Cup with a chance to earn a WarioWare: Get It Together! theme. Other collaborations include Mario Golf: Super Rush, Super Mario 3D World + Bowser's Fury, Super Mario All-Stars, Paper Mario: The Origami King, and more.
The 25th Maximus Cup for Tetris 99 goes live on October 8 at 12 AM PT / 3 AM ET until October 11 at 11:59 PM PT / October 12 at 2:59 AM ET. If you earn 100 points during the event, the theme will be yours.
You can check out additional information about Tetris 99 by visiting Nintendo's official website here.
Leave a Reply