Tetris 99 announces 26th Maximus Cup with Metroid Dread theme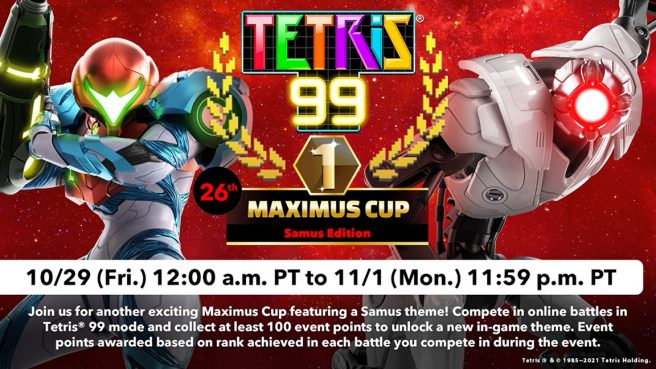 Tetris 99 will host its 26th Maximus Cup this week and will offer players a chance to earn a Metroid Dread theme, Nintendo has just announced.
The event goes live this Friday. Once it starts, players will be tasked with earning 100 event points. A Metroid Dread theme will be unlocked after reaching that number.
Nintendo has been rolling out new themes for Tetris 99 quite regularly. Earlier in the month, it was a rare third-party game featured with Monster Hunter Rise. We've seen many other themes in the game such as WarioWare: Get It Together!, Mario Golf: Super Rush, Super Mario 3D World + Bowser's Fury, Super Mario All-Stars, Paper Mario: The Origami King, and more.
Here's a trailer showing the Metroid Dread theme in Tetris 99:
The 26th Maximus Cup in Tetris 99 goes live on October 29 at 12 AM PT / 3 AM ET. It will end on November 1 at 11:59 PM PT / November 2 at 2:59 AM ET.
Tetris 99 originally released for Switch in February 2019, and is currently available to play for Nintendo Switch Online members. More information about the game can be found on the official website from Nintendo here.
Leave a Reply