Tetris 99 announces 27th Maximus Cup with Mario Party Superstars theme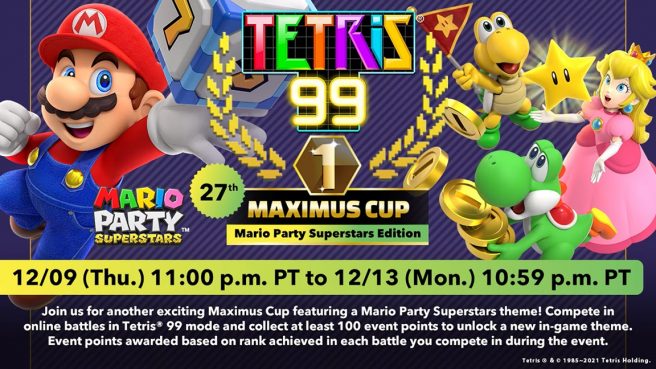 Nintendo has announced the 27th Maximus Cup for Tetris 99, and it will come with the chance to earn a theme based on Mario Party Superstars.
The event kicks off on December 9 at 11 PM PT / December 10 at 2 AM ET, lasting until December 13 at 10:59 PM PT / December 14 at 1:59 AM ET. During the event period, those with access to Nintendo Switch Online or Nintendo Switch Online + Expansion Pack will only need to play Tetris 99's online mode. They can earn event points based on their placement in each match. After hitting 100 event points, Tetris 99 players will unlock the Mario Party Superstars theme. It comes with special background art, music, and Tetrimino designs.
Mario Party Superstars is just one of many themes we've seen in Tetris 99 since launch. At the end of October, it was Metroid Dread that got the spotlight with its own theme. Prior to that, it was the third-party title Monster Hunter Rise. Other themes include WarioWare: Get It Together!, Mario Golf: Super Rush, Super Mario 3D World + Bowser's Fury, Super Mario All-Stars, Paper Mario: The Origami King, and more.
You can get a look at the upcoming event in Tetris 99 below.
Tetris 99 is currently available on Switch. For more on the game, visit the official site here.
Leave a Reply