Valkyria Chronicles 4 demo and digital pre-orders live on Switch today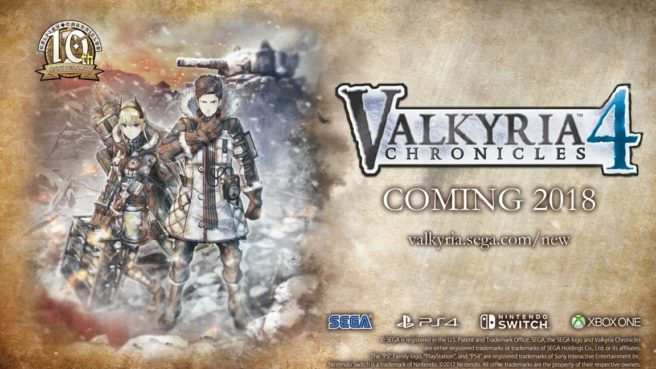 Update: The Valkyria Chronicles 4 demo and pre-load are now live on the eShop.
---
Original: SEGA has passed along some notable news about Valkyria Chronicles 4. Along with a demo, digital pre-orders will be live later today. SEGA actually says that both are live now, but we're not seeing anything just yet – that should change when the eShop updates in a couple of hours.
Here's what to expect from the demo:
"… you'll join Commander Claude Wallace and his comrades in Squad E as they begin the first steps of Operation Northern Cross. Experience the series' signature watercolor aesthetic as presented by the CANVAS Engine and get a feel for the innovative tactical BLiTZ system before the full game launches on September 25. Play through the prologue and first two chapters of the game, as well as an exclusive bonus mission created for the demo. Demo save data, including items obtained, class levels, earned experience, and currency total will transfer over to the full game, so you can pick up right where you left off. Additionally, importing save data from the demo will net you an exclusive accessory for use in the full game."
When Valkyria Chronicles 4 receives its eShop page, you'll be able to pre-load the game. Digital pre-orders come with a special bonus – the 'A Captainless Squad' add-on mission where "a group of Squad E soldiers find themselves on an impromptu reconnaissance operation after the squad's beloved medic dog, Ragnarok, goes missing."
The mission can be accessed after reaching Chapter 10 in the main story. It will be sold separately as a standalone add-on item for $4.99 in late October.
Source: SEGA PR
Leave a Reply