Video: Mario Golf Switch vs. Wii U vs. N64 graphics comparison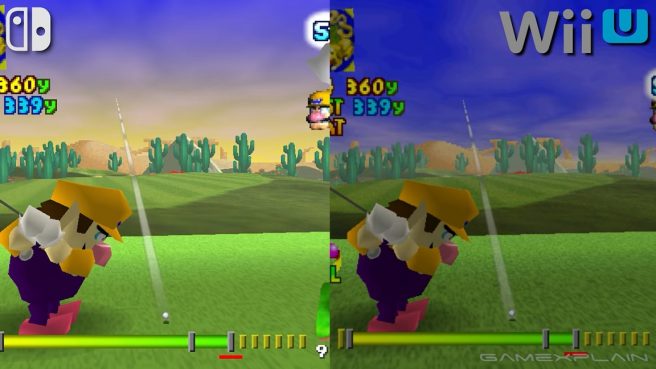 Mario Golf debuted on Nintendo Switch Online today, and GameXplain has now put together a graphics comparison that includes Wii U and N64. We first get to see how things stack up between Switch and N64 before moving over to Switch and Wii U.
It's clear that Mario Golf produces the clearest image on Switch. For one thing, the resolution the highest. The action was also much darker for the Wii U Virtual Console release, which has been fixed this time around.
Here's some information about Mario Golf:
Mario takes a well-deserved break from his role as the Mushroom Kingdom's busiest hero and returns to the links for some world-class golfing action. Since no one likes to hit the fairways alone, he's brought along a group of friends—both familiar characters and some for their first introduction. Choose from 10 different modes of play and six 18-hole courses in a variety of environments for a golfing experience with endless replay value. Add fun, colorful graphics with a Mario touch, intuitive controls, incredibly deep gameplay, and multiplayer support into the mixture, and you have a game that anyone will enjoy—even if they've never played a round of golf!
The full graphics comparison video for Mario Golf on Switch, Wii U, and N64 can be found below.
Mario Golf is out now for all Nintendo Switch Online members under the Expansion Pack tier.
Leave a Reply