Yooka-Laylee and the Impossible Lair update announced – new ways to play Impossible Lair, 8-bit soundtrack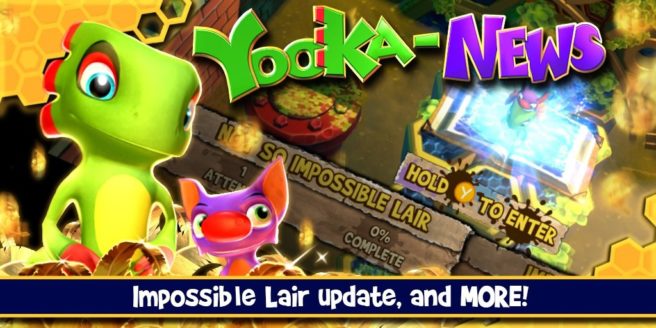 Playtonic has announced a new update for Yooka-Laylee and the Impossible Lair. Switch players should have access starting April 14.
One of the major changes concerns the Impossible Lair itself with two options: "Not So Impossible Lair" and "Impossible Lair". The first one includes optional checkpoints, while the latter means you'll need to play without the Bee Shield or checkpoints. If you do go with Impossible Lair and clear the level, you'll earn the "Golden Try" Tonic.
Here's the full rundown of the update:
IMPOSSIBLE LAIR "STATE CHANGE"

Flip the switch and choose how you tackle the Impossible Lair!

Not So Impossible Lair

Each section now ends with a Checkpoint (Checkmates, technically). Checkpoints save your best "Bee Shield score", meaning you can choose which sections to start from, practice and improve on! Using these checkpoints is entirely optional.

Impossible Lair

No Bee Shield, no Checkpoints! The "Golden Try" Tonic can now be earned this way – no new save file required.

8-BIT SOUNDTRACK

The brilliant Tater-Tot Tunes has composed an entire 8-Bit Soundtrack covering every 2D level in the game. To access it, simply find it in the pause menu once the update is live. If Chiptune is your thing, you're in for a real treat!

Once again, we've teamed up with Materia Collective! This time they're bringing the 8-Bit version of the Yooka-Laylee and the Impossible Lair soundtrack, "Retro Remix", to a music streaming service/store near you! Pre-Save the album on Spotify or Apple Music and have it ready to go for the 14th!
Playtonic also said that it has listened to fan feedback, and will be adding the Yooka 64 model from Yooka-Laylee and the Impossible Lair to the Tonic in the original Yooka-Laylee as free DLC.
To celebrate all of the news, if you own Yooka-Laylee on Switch, you can purchase Yooka-Laylee and the Impossible Lair at 50 percent off between April 9 and April 19.
Leave a Reply