Zelda: Symphony of the Goddesses: Master Quest adds more dates in North America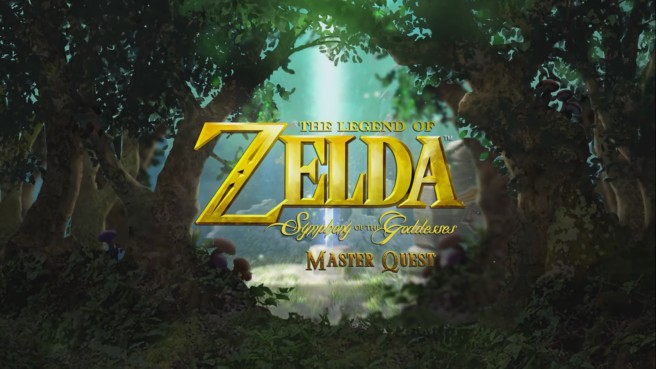 Zelda: Symphony of the Goddesses: Master Quest, the current rendition of the Legend of Zelda concert tour, is currently touring across Europe, but will return to North America starting in November. This has been known for a while, but Jason Michael Paul Entertainment, Inc., who organize the concerts, sent out a press release today that confirms more tour dates and some more details about the show itself. Check out the updated schedule here to see if the concert tour is coming to a city near you. The full press release is past the break.
SAN FRANCISCO – October 6, 2016 – Jason Michael Paul Entertainment, Inc. today announced new content for The Master Quest 2016-2017 tour across North America. Upcoming shows will feature ALL NEW music and visuals from Tri Force Heroes, a new intermezzo from Temple of Time, updated visuals and gameplay from The Legend of Zelda: Twilight Princess HD remake, and awesome new merchandise in the Zelda Symphony shop."For gaming audiences, it isn't a huge surprise that Zelda fans are so rabid, but from a business perspective, it's kind of a crazy phenomenon. And tech-wise, we're talking about a 2-hour concert featuring a 66-piece orchestra and 24-person choir, with video footage to match," said Jason Michael Paul, President of Jason Michael Paul Entertainment, Inc., the company producing the concert tour. "Arrangements are directly approved by franchise producer Eiji Aonuma and Nintendo composer and sound director Koji Kondo (Super Mario Bros., The Legend of Zelda)."

Fans can view a complete tour schedule with new show dates and ticketing information, as well as sign up for a regularly updated digital newsletter at http://zelda-symphony.com. Additional updates are available on Facebook and Twitter.

Reading, PA – November 4
Santander Performing Arts Center (Tickets)

Washington, DC – November 5
Warner Theater (Tickets)

Louisville, KY – November 10
Whitney Hall (Tickets)

Rochester, NY – November 11
Kodak Hall (Tickets)

Chicago, IL – November 12
Auditorium Theater (Tickets)

Newark, NJ – November 13
NJPAC (Tickets)

Charleston, SC – November 17
NCPAC (Tickets)

Houston, TX – November 18
Revention Center (Tickets)

Milwaukee, WI – November 19
Riverside Theater (Tickets)

Fresno, CA – November 20
Saroyan Theatre (Tickets)

Phoenix, AZ – November 21
Phoenix Convention Centre (Tickets)

Salt Lake City, UT – December 4
Abravenal Hall (Tickets)

Quebec City, QC, Canada – December 7
Grand Theatre de Quebec (Tickets)

San Jose, CA – December 10
City National Civic (Tickets)

St. Petersburg, FL – December 16
The Mahaffey Theater (Tickets)

Fort Worth, TX – January 7
Bass Performance Hall (Tickets)

Honolulu, HI – January 13
Neal S. Blaisdell Concert Hall (Tickets)

Oklahoma City, OK – January 21
Civic Center Music Hall (Tickets)

This year, the Houston concert (November 18) will feature a particularly special addition – famed ocarina performer David Ramos! A native of San Antonio, TX, David Erick Ramos has been performing with the ocarina for over 16 years. He first discovered the instrument through the Legend of Zelda: Ocarina of Time, and has since amassed over 50 million views on his ocarina related YouTube videos. A classically trained musician, David has toured throughout the US to perform and promote the instrument through educational workshops, including several in collaboration with the Symphony of the Goddesses. He recently represented the United States as a featured performer at the 2015 International Ocarina Festival in Budrio, Italy.
Leave a Reply