Capcom shares interesting insight into Ace Attorney – Dual Destinies, Ace Attorney 6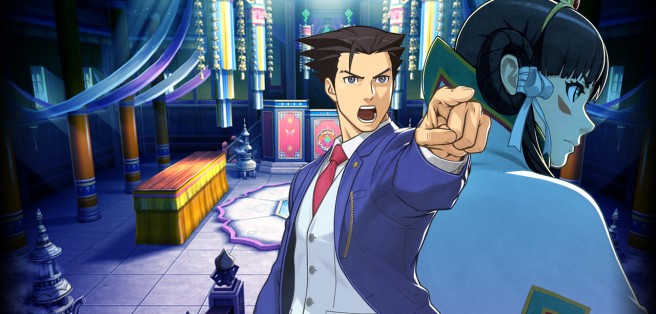 Last month's issue of Nintendo Dream has a big interview with Takeshi Yamazaki and Motohide Eshiro from Capcom about all things Ace Attorney. The two developers provided some interesting insight into Phoenix Wright: Ace Attorney – Dual Destinies as well as Ace Attorney 6. It's several pages long, so we went ahead and made a summary.
The most difficult aspect of developing Phoenix Wright: Ace Attorney – Dual Destinies was moving platforms from DS to 3DS. At the time, Capcom hesitated as to whether to keep the series in 2D or make it 3D. Because of the 3DS' selling point had been about three-dimensional views, they decided to pursue the latter option.
Something similar happened with Ace Attorney Investigations. That title took more time to develop because they needed to create a new gameplay mechanism from scratch. However, when Capcom then made Ace Attorney Investigations 2, they already had the base game set up so they could focus more on the scenario.
Going back to Dual Destinies, as many fans know, Shu Takumi was busy with Professor Layton vs. Phoenix Wright: Ace Attorney, so he wasn't too involved. Capcom wanted to ensure that the graphics for Ace Attorney 5 wouldn't be inferior to the crossover side game.
Capcom needed to be careful in terms of balancing between the art design and bringing the visuals into 3D, which is why they didn't rely on usual character designer Tatsuro Iwamoto (who seems to be freelance). Instead, they looked to Takuro Fuse, who works inside the company so they can also meet up more easily. Since Dual Destinies was Fuse's first involvement with the series, at first he had trouble making his character designs fit within the Ace Attorney universe, and that's when Eshiro gave him a bunch of feedback. With Ace Attorney 6's development, he should now be accustomed to the design direction, so there shouldn't be as much feedback.
Phoenix Wright: Ace Attorney – Dual Destinies was created long after the franchise's last main game. Due to this, Capcom needed to make quite an impact with the latest title at that time, other than making sure Phoenix returns as an attorney but also without stealing all of the spotlight from Apollo who was already established as a new main character. The problem was how to make such an impact with both Phoenix and Apollo. That's when they decided upon the story concept for Dual Destinies to be a 'Collapse of the Trial System' and how both of them work to revive back from it.
A lot of fans in Japan were moved by Apollo's story of growth in Dual Destinies, and he's now one of the most popular characters within Japan's Ace Attorney fan base. Apollo received loud cheers when his name was mentioned in recent Ace Attorney events, and was even ranked first in recent character popularity polls. He gained some popularity after becoming the protagonist in Apollo Justice: Ace Attorney, but his own story wasn't explored enough in that game. This is why the development staff decided to give him more development in Dual Destinies, which became a success. Adding Athena Cykes as his junior also helped made the story easier.
After Dual Destinies was published, Yamazaki became very exhausted and actually wanted to quit developing Ace Attorney games. That's when Eshiro made a couple of steps to encourage him back. The first step was by bringing him to San Diego Comic-Con, where he met enthusiastic western fans who wanted to have his autograph and some of them even learned Japanese just to be able to play Ace Attorney Investigations 2 (not available in the west). Yamazaki was also brought to a press conference in Taiwan because Eshiro knows Asia also has plenty of enthusiasm when he managed the Devil May Cry game for the PlayStation 3. The main aim for both these steps was to give Yamazaki the energy of enthusiasm from both overseas fans (Comic-Con) and media (Taiwanese media). This succeeded, and in the end Yamazaki himself said he wanted to make Ace Attorney 6.
Eshiro reflected on the situation in the interview. He thinks Yamazaki became exhausted because he had to handle many directing responsibilities in Ace Attorney – Dual Destinies, both in terms of scenario and game system. At first Eshiro thought about having two equal directors, but he was afraid the team would have difficulty in referring to which director's opinion. Right under him, there's now a co-director for Ace Attorney 6 who is Takuro Fuse. Fuse is also the art director at the same time so he would be directing the graphics and gameplay while Yamazaki can mostly focus on the scenario.
Leave a Reply