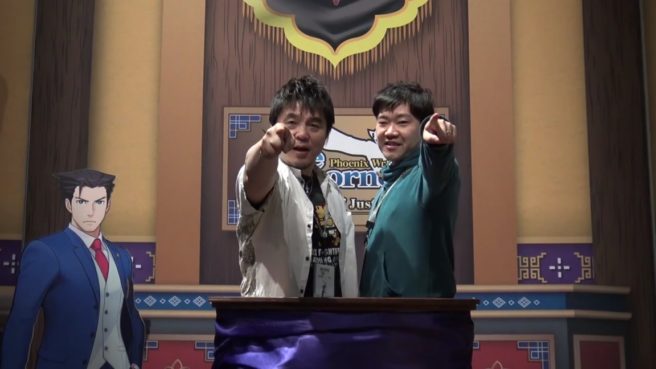 Capcom UK shared a new Phoenix Wright: Ace Attorney – Spirit of Justice developer interview today. Veterans Takeshi Yamazaki and Motohide Eshiro talk a bit about some of the new features, favorite characters, and more. Watch the full video below.
Dengeki recently caught up with Motohide Eshiro, the producer of Ace Attorney 5. Eshiro spoke about the game's difficulty, the possibility of an anime or even a drama series, where the Ace Attorney future lies after The Great Ace Attorney launches, and more.
The folks over at Court Records translated some of the tidbits from Dengeki's interview. You can find them below.
– A lot of fans reacted positive to Apollo's role in the game
– Some people thought the game was too easy and they'll keep that in mind for future games
– Eshiro was overwhelmed when Apollo ranked first in the NicoNico GS character election (dates from August 2013). Also glad that characters like Blackquill and Fulbright ranked in high.
– Eshiro likes case 2 (he likes the creepy and mysterious atmosphere) and case 3.
– Yamazaki likes the last case
– Eshiro knows a lot of fans want an anime, but such a project costs a lot of time, and they just never managed to get the timing right for something like that. And just an anime would be boring, so he would like to do something special with it if they were to produce one.
– Personally, Eshiro would want to do a late night TV drama series, because he thinks the format fits GS well.
– The interviewer suggests a GS concert, to which Eshiro said he would think about it (laugh)
– Yamazaki would like to do something like a real-life game (i.e. escape the room games).
– GS5 is not the end of the GS series, DGS is coming and they'll want to do even more after that.