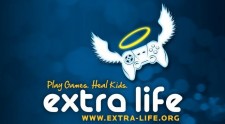 1 year ago
By
Austin
(
@NE_Austin
)
7 Comments
If you don't want to read anything, watch this video at the very least! It explains most of what you're about to read.
Donate here! (or at least think about it…)
Catch the stream here (8AM central time, November 2nd)
Hey guys! We're just three days away from this year's Extra Life 2013 gaming marathon for charity, and we have one last (okay, maybe the second to last) update for you on what we're doing, when we're doing it, and why you should consider participating. If you have no idea what Extra Life 2013 is, please check out this post.
---
The final schedule for the event has been worked out, and you can view it after the break. It includes things like video game jeopardy (where we ask the questions and you guys answer them), Ask Seaman Anything (a Skype call-in segment), The Walking Dead LIVE! (yet another call-in segment), and much more. Please take a look at it after the break.
Oh, and we have PRIZES FOR YOU. That's right: You can win prizes by donating or participating in the event in a very intuitive way thought up by Jack. Here's how it's going to work:
For every dollar you donate to the cause, you'll get one pretend digital raffle ticket.
For every Jeopardy question you answer correctly, you'll get one pretend digital raffle ticket
For every time you call in to the show, you'll get one pretend digital raffle ticket
We'll also be giving away raffle tickets to people that we consider outstanding participants. So if you do something cool or you make us laugh or whatever, we'll give you extra raffle tickets!
When all is said and done, all of the raffle tickets will be bundled up and we'll do drawings for fabulous prizes. Most (if not all) of the prizes are game download codes for Wii U, 3DS, PS3, Steam, etc etc. I can't promise that we'll give away anything crazy (no game systems or huge retail games or anything), but hopefully the ability to win some neato games will be enticing enough to get you to participate. More details to come on the day of.