PlatinumGames on Astral Chain – origins, Kamiya's involvement, how Legions changed during development, more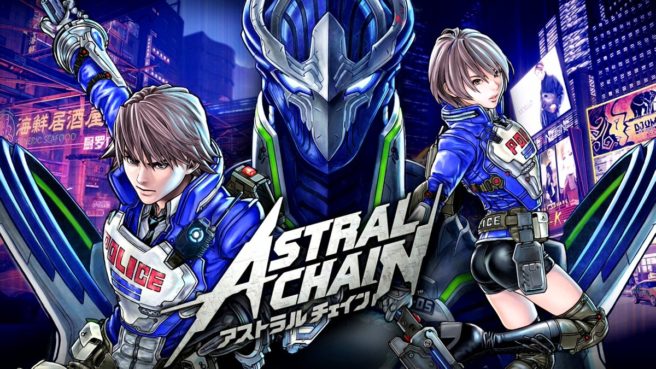 Famitsu recently published an interview with Astral Chain director Takahisa Taura and supervisor Hideki Kamiya. While we posted some tidbits previously, we've taken another look at the discussion and have a bunch of additional information to share.
Taura knew that directing was a tough and lonely endeavor, but it was even tougher and lonelier than he expected. Since it was a new IP, it was hard to define what was right and wrong to do, so he tried out a lot of ideas during production. He gained even more respect for Kamiya since he's been a director so many times before.
Kamiya's first game as director was Resident Evil 2. At that time, he was around 26 years old. Since it was a sequel, he did have some jumping off points and some foundations in place to help along. Considering Taura's directorial debut was on a brand new IP without those safety nets, and seeing how Astral Chain turned out, he's confident that Taura's going to have a very successful career moving forward.
Taura said he didn't feel pressure with Astral Chain's release following NieR: Automata's. Since Yoko Taro isn't involved in Astral Chain, Taura sees the two games as completely unrelated. "Sorry, but they're totally different," he said. Taura noted that he was allowed to make the kind of game that he, himself, wanted to make.
Even though Kamiya started as a director younger than Taura (who's young himself), he said Taura still has an edge because Taura has a ton of experience in project planning. It sounds like Taura helped Kamiya out on The Wonderful 101 in regards to planning.
Taura said since he's worn several different hats in development, it helped him to give direction. Kamiya said Taura is particularly skilled at listening to feedback and negotiating. It's thanks to these qualities that he thinks Taura was able to create unique gameplay that he intended. Taura says he always saw the plans he directed to others through to the end; he did so not because it's his strength, but because he genuinely enjoys it.
Taura wasn't planning on making the game particularly difficult (Nintendo was); it was extremely important to him to have difficulty levels to choose from.
Post-production is neither Taura's nor Kamiya's favorite part of the directorial process.
Pre-production started with Inaba Atsushi, PlatinumGames chief creative officer, asking Taura if he had any ideas. Taura gave him a proposal, and they put together the basics of a medieval fantasy game in about one month with a team of about three or four people. This was before NieR: Automata. Following this, Nintendo approached them asking to work together. The original idea was set in medieval Europe, with swords and magic. Nintendo asked him to propose more ideas other than medieval European fantasy, and they went with sci-fi.
Taura, Naka Akiteru (game designer) and Kimura Hajime (art director) worked together to create the story, world and plot. They worked with someone from Nintendo who was well-versed in creating good stories, too.
Once they decided on the father working together with his twin children, they came up with plot points easily.
Astral Chain was not a dual action game originally, but a triple action game. They ended up changing it seemingly early on because the controls became a little too confusing and it was difficult to tell what was happening or where to look.
Kamiya was extremely impressed with the first prototype he saw. He said it was unlike anything PlatinumGames had ever made before. He was so surprised by the gameplay that he wondered what Taura's mindset was that lead him to create this kind of gameplay. He looked at the proposal documents and felt like Taura had two different brains.
After changing to sci-fi, they thought about doing the character designs in-house. Nintendo suggested getting an outside company to do the designs, and since Taura is a long-time fan of things like "ZETMAN", he approached Katsura Masakazu.
Kamiya is also a huge fan of Katsura Masakazu – "Wingman" in particular. Katsura came up with the main characters quickly, but took some time to come up with the Legion designs. At that time, the Legions were going to be monsters that appeared in the world that the player would catch and use. After consulting with Nintendo regarding the problems they were running into with creating unique animations and action for each of the monsters, they decided to change the idea; they decided to focus on the quality of the action rather than the quantity. That's how it turned into five different Legions. Taura suggests fans check out the art book that comes in the collector's edition to see how different Katsura's sketches are from what he eventually created.
Katsura's female butt designs are popular with fans, but Kamiya says he would've put a good butt in the game whether Katsura designed one or not because it's Platinum's destiny to show off a good butt.
Taura said they had planned to have the option to choose male/female from the beginning. He likes games where you can choose and customize your characters.
Taura wanted both male and female singers for the main theme song. Because of this, Nintendo got in touch with avex (huge Jpop music label). They sent Taura several different samples, but it was an easy decision for him when he heard the sample with Aoyama William (from INTERSECTION) and Beverly. He said it fit the style of the game perfectly. There's a featured song in the game that will have either male or female vocals based on the gender of character the player chose. Even though they're the same song, Taura thinks they have a different feel with the different vocalist, so he hopes people will experience both.
There are currently no plans to release a standalone soundtrack, outside of the collector's edition.
Kamiya aided in keeping the gameplay diverse with things like investigations, field puzzles, and the opening motorcycle shooting scene.
Taura has always loved games with strong RPG elements, so he wanted to include these elements in Astral Chain. All of the variations in gameplay fit the narrative of the main characters being police officers.
Taura and Kamiya talk that about 10 percent of development was Kamiya's influence, the other 90 percent was Taura's.
Kamiya talked about trial and error and an open-minded approach to development. He said it's hard to provide that kind of environment for developers, and that you need to make something really special nowadays in order for it to get attention.
Taura mentions how there aren't many games that have done dual-action, so they had to experiment with what worked, and figure stuff out on their own. In the final game, Legions operate semi-auto because that's what they found was the best balance. However, in the beginning the player controlled them 100%. The controls were too complex, so they tried issuing commands to the Legions, but that didn't come together as they had hoped. They tried a lot of different things- even a rhythm action style input, as well. There was a point where Taura was unsure of how it was going to work out.
Kamiya mentioned how he's had those kinds of times where he's felt lost in the director's seat. He related by bringing up Okami. When he had done so much trial and error that he became unsure of what he was making, he went back to the first promotional trailer they put out and contemplated on it. It made him remember/realize what kind of game he set out to make, which reigned him back in. With "Astral Chain", there wasn't that kind of promo trailer or anything to go back to, so he really empathizes with all the hard work Taura and the team put in when they were feeling lost during development.
The chain connecting the player and the Legion was originally included just because it looked cool. In retrospect, Taura is really happy that they did that because it's now so integral to the battle and narrative.
Platinum implemented the Unchained Mode because they want all kinds of players to get their hands on Astral Chain. Kamiya said modes like this and the automatic mode in Bayonetta are used not by players saying they want it to be easier, but rather by players who want to see what it feels like to play like a pro.
Taura says they always intended for the attack button to be a single button. They planned for this in order to simplify the already complex concept of dual action. There are already a lot of new things for players who are used to action games or who have a natural talent for games.
Taura was inspired by Breath of the Wild's camera and bestiary in creating photo mode for Astral Chain.
There's a lot of post-story content; Taura is confident players will be satisfied with the experience of playing the game through the story, but they wanted to make sure the hardcore action gamers were satisfied as well.
Kamiya says the most important thing to him is for a director to have a strong vision on a project. He sees that in Taura, and has seen him grown in this regard as well.
Leave a Reply