– Phantasy Star Zero (DS)
Publisher: SEGA
Developer: Sonic Team?
Release: Winter 08
– Character Designer : Toshiyuki Kubooka (IdolMaster, Lunar)
– Scenario : Tooru Shiwasu (formerly in charge of the online quest on the original PSO, now a writer)
– Scenario : Teru Arai (mystery novels writer)
– New in the PSO series
– Multi play over Nintendo WiFi connection
– Chat system supports sending of stylus sketches (Something like Pictochat)
– Blow into DS mic to send msg (??)
– Huge Dragon: Rayburn
– Girls Mode (DS)
Publisher: Nintendo
Developer: ?
Release: 23rd Oct/4800 Yen
– Fashion game
– Item Getter (DS)
Publisher: 5pb
Developer: ?
– New DS Adventure RPG
– Game is divided into Adventure and RPG part
– You can use alchemy to create new items
– Power Pro Pocket 11 (DS)
Publisher: Konami
Developer: Konami
– Powerful Major League 3 (Wii)
Publisher: Konami
Developer: Konami


DS
Yajuu Keiji: Tokyo Douji Tahatsu Tero o Chinatsu Seyo! (NDS, Success): 6 / 6 / 4 / 6 – (22/40)
Long Vacation: Iruka to Watashi (NDS, Starfish ID): 4 / 5 / 4 / 5 – (18/40)
Dragon Ball DS (NDS, Bandai Namco): 8 / 8 / 7 / 7 – (30/40)
Illumi Slight: Hikari no Puzzle (NDS, Interchannel): 6 / 6 / 7 / 7 – (26/40)
Ochishi Keiji: Keiji-San, Watashi ga Arimashita (NDS, Success): 7 / 7 / 7 / 6 – (27/40)



What hasn't Google done these days? They have their own email service, immensely popular search engine, translator, and much, much more. Google might be expanding their territory even more as the future approaches by publishing games. As 1UP points out, Google is full of money and could easily buy out any number of casual game developers. Google continues to change its approach as can be seen with the release of their own Internet browser, Google Chrome. The only question is, will Google have the guts to take a step into the gaming industry?


Austin, TX – September 9, 2008 – Upshot Games announced today an elegant, yet ruggedly built, "RealMotion Pool Cue" companion accessory for their upcoming professional pool game for Wii™, American Pool Deluxe. This is not your average controller peripheral – it is a meticulously crafted cue built specifically to take advantage of the Wii remote's accelerometer technology for real precision and fun.

"It is the dedication to realism that led to the development of the RealMotion Pool Cue for American Pool Deluxe," said Eric 'The Preacher' Yow, World Pool-Billiard Association Masse World Champion. "Tested extensively by real billiards pros like me, you can be assured this is the only real pool game for Wii™."

From 8-ball to 9-ball to snooker, American Pool Deluxe features head-to-head and four person multiplayer, trick-shot challenges, as well as a complete tournament mode. Players in a tournament can face off against other pool champions from around the world. Three professional commentators analyze the action as players walk around the table and plan their shots from any angle.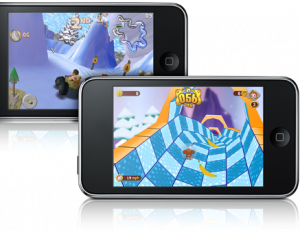 The PSP and DS have become long-established portable gaming devices. It has only been considerably recent that the iPod Touch became a competing system. However, Steve Jobs is trying to make a case that it's the best portable device for gaming. "Now you can make a pretty good argument that it is the best portable device for playing games on – and a whole new class of games."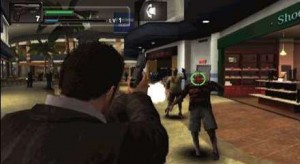 Update: There seems to be some uncertainty about whether this news applies to the 360 or Wii version. The actual question posed to Svensson was, "So if the wii ends up fitting about 100 zombies on screen, wouldn't it mean that it would be on par with the 360 in terms of number?" Christian Svensson may have indeed been referring to the original game, though again, it's still not crystal clear. Either way, the Wii version is still supposed to have a large number of zombies and as has been stated by the developers before, they are aiming for 100 in the final version. We'll have to see how things play out.
The zombie count in Dead Rising: Chop Till You Drop has been an element of both mystery and uncertainty. No one really knows for sure how many enemies will be present in the Wii version of Dead Rising. Capcom's Christian Svensson is taking on the case, however, and is willing to enlighten fans about the zombie count. "Take the car underground, day 2-3, run em down.. you'll see several hundred rendered in scene," he said. "I can't quote you exact numbers because I don't know what they are. But it's a hell of a lot."
I'm sure we're not going to see a ton of enemies every instant throughout the entire game, but in other areas, there's going to be a very respectable amount.


Nintendo has released the DS and Wii in most countries around the world, but India is one particular exception. Two out of the three next-gen consoles are available in India, but not the Wii or even DS. Nintendo will be changing this on September 30th when they launch both systems. The Wii will be priced at INR 19,990 INR 7,990 for the DS.


I noticed that someone else was kind enough to post a summary of IGN's Nintendo Voice Chat podcast. There's a few interesting bits including news about Moon and Lock's Quest.
Mystery Case Files MillionHeir:
-Good fit for DS.
-Appears to be going after Professor Layton audience, but in reality it's a different beast.
-Easier than Professor Layton.
-Fairly casual game.
-You find items hidden in busy scenery.
-If you play the game a second time you'll get different items to find, adding to the replay value.
-Score given: 7.7
-Positive impressions Little King Story. Health represents age. Lower health = older, grumpier, not as willing to follow commands. Lack of IR control though.
-NHL 2k9: Looks like "ass", plays okay. Looks like first gen PS1 according to Bozon.
-"Some" company's have Motion Plus development kits. They can't say who though, as it might ruin relationships (in other words, they're avoiding another Factor 5-Kid Icarus incident).
-Star Wars: The Force Unleashed: 360/PS3 versions are more like tech demos while Wii version is more like a game. Only downside mentioned is PS2/PSP graphics.
-Most hyped upcoming games of 2008 (on all consoles):
Bozon: Dead Space
Daemon: Prince of Persia
Craig: Animal Crossing: City Folk (hoping for it to be different from the DS/GC versions)
Matt: N/A
-On the topic of a one console future: Competition bring innovation. If there was ever only one console on the market, another console would just come out.
Interview with people from Lock's Quest/Drawn to Life development team (5th Cell):
-There's a possibility for Drawn to Life on consoles.
-No current Wii projects.
-There's a new DS game from the creators of Drawn to Life and Lock's Quest! The person being interviewed hyped it up quite a bit. He says it will be revealed next year.
Interview with people from Renegade Kid:
-Mastiff asked Matt for a quote about Moon. Matt gave them one saying that it's similar to Metroid.
-Potential storyline twists in Moon.
-Moon runs at a solid 60fps.
-Wii Remote-esque aiming on DS? Could work pretty well but it's not in the game currently.\