Everyone's Nintendo Channel, a channel that has been out several months in Japan, will be available for download when WiiWare launches next month, renamed as "Nintendo Channel." As with Japan, the channel will be free to download and will provide users with with DS demos and trailers. Also, those who download WiiWare titles will be able to review them once they play at least an hour of a particular title.


"There has been no announcement of ANY home version for SFIV, Wii or otherwise. This "mag" is speculating, not reporting news." – Seth Killian, Senior Community Manager of Capcom
Even though it seems as though there was a publication mistake with the magazine, at least there still is a chance that Street Fighter IV could end up on Wii.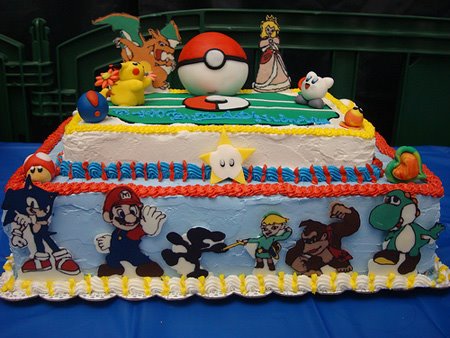 A few days ago, we showed you some Smash shoes. This time, we bring you a Brawl cake. A number of Brawl's most popular characters can be seen on this delicious treat, including Pikachu and Kirby. The top portion of the cake seems to be a representation of the Pokemon stadium. I wonder if that Pikachu is edible…



Shigeru Miyamoto, mastermind developer of beloved franchises such as Mario and Zelda, is currently in the lead in Time's "Most Influential People" poll. Miyamoto is edging out last year's winner, Rain, by a single point. In a succinct explanation of Miyamoto, praise is given to him due to the success of the Wii, but questions whether Wii Fit will be able to "reverse gravity for all the obese, video game–playing kids out there."


REDWOOD CITY, Calif.–(BUSINESS WIRE)–The Casual Entertainment Label of Electronic Arts Inc. (NASDAQ:ERTS) today released additional details on MONOPOLY (working title), the first Hasbro-branded video game set to launch on next-generation consoles including Wii™ and the Xbox 360™ video game and entertainment system. MONOPOLY will also be appearing on the PLAYSTATION®2 computer entertainment system as well as mobile phones and Pogo.com™. The multiplatform video game is inspired by Hasbro's highly anticipated MONOPOLY HERE & NOW: The World Edition board game. Currently, the MONOPOLY video games are set to release this fall simultaneously with the global launch of the new board game.

The MONOPOLY video games promise a fresh take on the timeless classic with accessible gameplay for players of all ages and skill levels. The all-new digital gaming edition brings a party twist and features 4-player simultaneous play, ensuring that everyone is engaged and allowing the whole family to get involved in the fun and play together. Faster gameplay eliminates downtime freeing up players to wheel and deal their way through some of the most recognizable cities and landmarks from around the world. Families can fill up their passports as they try to unlock new and never-before-seen game boards or challenge each other to fun interactive mini-games like breaking out of the jail cell and running away with all the loot. Play in offline single or multi-player mode and compete to own it all and win!

"EA is taking MONOPOLY'S core gameplay and bringing it to life in a way never before imagined," said Chip Lange, Vice President and General Manager of EA's Casual Label. "With this dynamic take on Hasbro's classic board game, we've accelerated the pace of play, added new interactive mini-game sequences and integrated multi-player moments designed to make MONOPOLY a non-stop party for the whole family."

"It promises to be a very exciting fall for MONOPOLY fans worldwide," said Mark Blecher, General Manager of Digital Media and Gaming at Hasbro. "EA has done a tremendous job of re-imagining the world's most popular board game by remaining true to the traditional gameplay that millions of consumers have come to love while also creating new digital twists that can only be achieved in an interactive world. Rolling the dice and passing go will never be the same."


REDMOND, Wash., April 23, 2008 – For more than a decade, fans of Pokémon® video games have caught, trained and battled Pokémon. Now Pokémon fans will have the chance to experience life from a Pokémon's point-of-view with Pokémon® Mystery Dungeon: Explorers of Time and Pokémon® Mystery Dungeon: Explorers of Darkness, two new games available this week for the top-selling Nintendo DS™. Furthering the spirit of exploration, Pokémon fans are invited to an online sweepstakes where they will have the chance to uncover their very own treasure – a prize package filled with Pokémon and Nintendo goodies.

Between April 23 and May 21, Pokémon fans can visit www.PokemonMysteryDungeon.com, where they will be able to enter the Pokémon Mystery Dungeon Explorers online sweepstakes for a chance to win one of two Pokémon-inspired prize packages, including a limited-edition Pikachu® Nintendo DS, a Wii™ console, a high-definition television and assorted Pokémon video games, including Pokémon Mystery Dungeon: Explorers of Time and Pokémon Mystery Dungeon: Explorers of Darkness, and more great Pokémon merchandise. For Pokémon loyalists looking for even more adventure, the Pokémon Mystery Dungeon Web site is home to an online scavenger hunt where players will be tasked with discovering hidden icons to get access to an exclusive Pokémon wallpaper, giving their computer some extra flair.

"The new Pokémon Mystery Dungeon series delivers the most transformative Pokémon experience yet – the chance to become a Pokémon character," said Cammie Dunaway, Nintendo of America's Executive Vice President of Sales & Marketing. "Both new and returning players will relish the opportunity to embark on an endless journey through randomly generated dungeons on their Nintendo DS and discover their own hidden treasure through the online sweepstakes."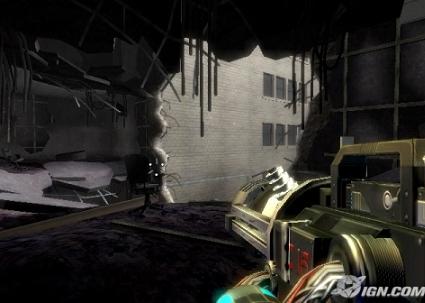 The announcement of The Conduit and its graphical capabilities made a splash around the Internet. The developers have been pushing their Quantum3 engine to the max in order to achieve visuals that could boast graphics similar to the Xbox360 and PS3. What exactly can the Quantum3 engine generate? Many known effects of the engine can be seen below:
Real-time effects
– Reflections
– Refractions
– Shadow casting
– Dynamic environment mapping
– Shadows
Bump-mapping
– 1-4 stage texture composition (for surface detail)
– RGB gloss maps
– Cyclic, linear translation/rotation (material effects)
– Standard tangent space normal maps with real-time adjustable bump intensity
– Bump lighting
Other graphical effects
Global illumination
Per-vertex lightmapping
Dynamic omni, directional, point, spot and projected texture lights
Skeletal, keyframe based animation
Morphing
Motion blur
Heat distortion
Bloom
Alpha masking
Specular and Fresnel effect
Interactive water
*More graphical effects can be produced through the Quantum3 engine, but the entire specifics of its capabilities have not been revealed.
So, can the Wii even partially mimic PS3 or Xbox360 visuals? That's up for you to decide.


News
World Destruction (Sega/DS)
-RPG, summer release date
-Scenario is by Masato Kato
-Character designs by Kunihiko Tanaka
-Music by Yasunori Mitsuda
Imabikisou -Solution Compilation- (Wii)
-2008 release date
-Additional scenarios
Review scores
DS
Keikishi Gunzou Presents: Monoshiri Bakumatsu-Ou (DS) 7/7/6/7
Hitman Reborn (DS) 7/6/6/6
Emblem of Gundam (DS) 6/8/7/8
Wii
Link's Bowgun Training (Wii) 9/7/7/7
Pro Baseball Family Stadium (Wii) 8/6/6/6


IGN's review of Mario Kart Wii went live a few days ago. Although I'm sure that 97% of you have already read IGN's the review, for those who missed out on it, you can read an except below. The review on IGN was one of the first to pop up on the Internet.
"With Mario Kart Wii, Nintendo has delivered one of the most accessible and fun console Karts in years. The trick system and bike support offer a fresh take on the series, and online play is the best we've seen from the company thus far. Kart may have its downsides, centering mainly on the single-player aspects of the game, but the overall effort features a great multiplayer experience, making the game a must play for both newcomers to console gaming, as well as seasoned Mario Kart veterans. We gave it an 8.5, and our Editors' Choice award. "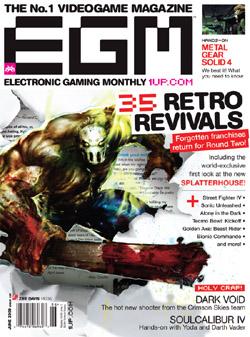 Remakes and revivals are never out of the question anymore, as seen with NiGHTS and hopefully Kid Icarus. Splatterhouse is another title that will be coming back from the dead – literally. In the latest issue of EGM, readers can expect to read about a new iteration of Splatterhouse. Information about the game is currently mum, as the latest issue of the magazine has yet to hit mailboxes.