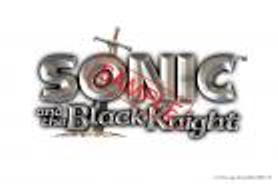 Some of the first details have been released on Sonic and the Black Knight, coming from SEGA's product page.
– Speed + swordplay are the main aspects of the game
– Go through an Arthurian storybook
– Sonic has his own sword
– "Encounter friends and foes along the way
– Exclusive to Wii
– Releasing in Spring 2009
Update: Here's the official press release from SEGA
SAN FRANCISCO & LONDON (July 21, 2008) –SEGA of Europe Ltd. and SEGA® of America, Inc. today announced Sonic™ and the Black Knight, an all-new Wii-exclusive adventure. Part of the storybook series of games that began with Sonic and the Secret Rings, this new title brings Sonic into the world of Arthurian legend and offers the worlds most infamous blue hedgehog the chance to become a knight. Using the unique Wii control system, this exciting game will take advantage of both the Wii Remote and the Nunchuk to offer an interactive experience that any Sonic fans will love.
Created by Sonic Team in Japan, this innovative game takes Sonic into a medieval world and arms him with a sword to aid in his effort to save the day. Sonic and the Black Knight will provide Sonic fans with an irresistible cast of characters and teach them all what it takes to be a true hero and the ultimate knight. With a series of missions taking place in stunning Arthurian-inspired locations, Sonic and the Black Knight promises to offer a fast-paced adventure that gamers of all ages will enjoy.
"After the success of Sonic and the Secret Rings we're delighted to announce a second title in the Storybook Series," said Gary Knight, European Marketing Director, SEGA Europe, "Following Sonic on his way to knighthood will excite players of all ages."
Sonic and the Black Knight, exclusively for the Wii, will be out in Spring 2009.
For more information about the game, please visit www.sega.co.uk. For assets, please visit www.sega-press.com.


Nintendo Power apparently has the scoop on yet another game that should be releasing on the Wii in the near future, Sonic and the Black Knight. As is the case with most Sonic games these days, there has been much doubt about the new title and tons of speculation about if the game actually exists. However, SEGA has finally confirmed that Sonic and the Black Knight is a real game and new information should be flooding in soon. Clumsyorchid, one of Sega's community administrators noted, "I can confirm the game is indeed real, however you won't get any info on it from me, you'll have to wait until we post the product page tomorrow on SEGA.com and read the Nintendo Power article"


Best Buy
LEGO Indiana Jones: The Original Adventures (Wii) – $39.99
Kung Fu Panda (Wii) – $39.99
Wall-E (Wii) – $39.99
The Incredible Hulk (Wii) – $39.99
The Chronicles of Narnia: Prince Caspian (Wii) – $29.99
Circuit City
Final Fantasy IV (DS) – Free $10 gift card with purchase
Chicken Shoot (Wii) – $14.99
Showtime Championship Boxing (Wii) – $14.99
DS titles – $9.99: Are You Smarter Than a 5th Grader?, Dogs & Cats, Spongebob's Atlantis Squarepants, Cars, Transformers Autobots, Transformers Decepticons
10% off all DS accessories
Wall-E (Wii) – $39.99
Cake Mania (DS) – $14.99
Cake Mania 2 (DS) – $14.99

Target
Free $5 gift card with purchase of either SSBB, Mario Kart Wii, or Wii Play
Rock Band Special Edition (Wii) – Free $15 gift card with purchase
Guitar Hero Aerosmith Wii bundle – Free $15 gift card with purchase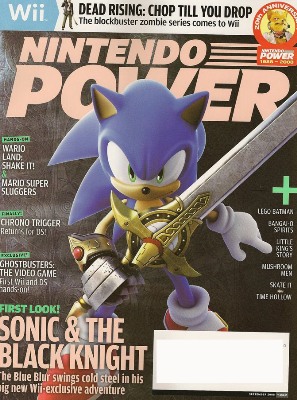 Sonic is going to be all over the gaming world over the next few months. Sonic Unleashed and Sonic Chronicles have both been announced by SEGA and now yet another Sonic title will be hitting the Wii. An ambiguous description of the game gives an idea of what to expect: "The Blue Blur swings cold steel in his new Wii-exclusive adventure." More as it develops.
Update: Signs are pointing to the possibility of this being a fake.
Update 2: It looks like the name of the game is indeed real, as SEGA recently trademarked a website domain.


Reggie Fils-Aime, the President of NOA, has commented in numerous interviews regarding core gamer's feelings about Nintendo's E3 showing. However, his remarks about how the core gamer should be satisfied is not exactly what most had hoped for. Now, Cammie Dunaway has gotten involved in the matter as well. Dunaway had a response to those who were disappointed with Nintendo this week. Dunaway noted in a GameTrailers interview, "Keep playing Mario Kart, keep playing Smash Brothers, and check out Animal Crossing with WiiSpeak which I think is going to be a really fun experience. And check out Wii Music. Playing those drums with the Wii balance board is something that I think will be a challenge for even the most hardcore." Dunaway went on to briefly discuss third-party support.
Mario Kart and Brawl are very entertaining products for the hardcore, but you have to wonder, where are the new games? Where's Kid Icarus? Where's Kirby Wii? And how long will it take for the next Mario and Zelda to launch?


"We would be delighted to do another game with Mario and Sonic." – SEGA of America president, Simon Jeffery
Mario & Sonic at the Olympic Games sold amazingly well…So well that it would not be crazy for both Sega and Nintendo to consider a sequel. However, that's not to say that the two icons will never tackle other video game genres.


James Bond is back to settle the score in the Quantum of Solace™ game. Introducing a more lethal and cunningly efficient Bond, the game blends intense action with a unique combat system for the Nintendo DS™ that allows players to use their stealth and lethal combat skills to progress through missions. Seamlessly blending the heart-pounding action and excitement of the upcoming "Quantum of Solace" feature film with the "Casino Royale" movie, the title propels players into the cinematic experience of international espionage. The Quantum of Solace game for the Nintendo DS gives players a unique experience in the palm of their hands, as they use an innovative touch screen control scheme that gives players the feeling of being James Bond.

KEY FEATURES:
• Become Bond – The Quantum of Solace game marks the first time players can become the dangerous and cunning Bond portrayed by Daniel Craig in "Quantum of Solace" and "Casino Royale."

• Innovative Touch Screen Control – The Quantum of Solace game for the Nintendo DS introduces streamlined controls, with players stealthily navigating the treacherous world and engaging in intense combat using only the stylus for a unique and compelling James Bond experience.

• Combat Variety – Choose how you want to complete your missions. Use your skills in espionage, to silently disable your foes. Take aim from a distance to remove enemies with deadly precision. Or come in close for melee combat in an innovative touch screen combat system.

• Deep upgrade system – Earn Bond points, collect better items, and use special playing cards to customize and enhance your abilities. Choose where you want to upgrade your character to enhance your favorite style of play. Explore the world for rare and powerful items.

• Cinematic Appeal – The game narrative accentuates key movie events from both "Quantum of Solace" and "Casino Royale," as players control James Bond through in-game conversations with multiple narrative options. Choosing the right one can unlock new abilities and uncover special items.


"The Wii is a really cool game system. It's worth better games than it's getting right now. There are some great games out there for the system, but it just seems like there's such an opportunity to do so much more with it. Considering it's such a popular system right now, it just doesn't make sense to not focus on making really quality games." – Matt Corso, High Voltage Software
The Wii has its fair share of impressive titles, but most of the quality is arguably coming from Nintendo. High Voltage seems to be doing everything in their power to make sure that their title, The Conduit, will be one of those "quality titles." Based on impressions from the media, it looks like the company is well on its way to accomplishing its goal.


Just so you guys know, RooGoo will be coming to the both the Wii and DS. SouthPeak confirmed the game a few days ago, but I waited to post this due to E3 news. If you're interested in seeing what the game is all about, check out this trailer from the XBLA version below.


Dragon Quest V – 420k
– 60% of initial shipment
– Comparison: DQ4 sold 350k on first day
– No shortages