Mario Golf: Super Rush giving Yoshi colors as Ranked Match reward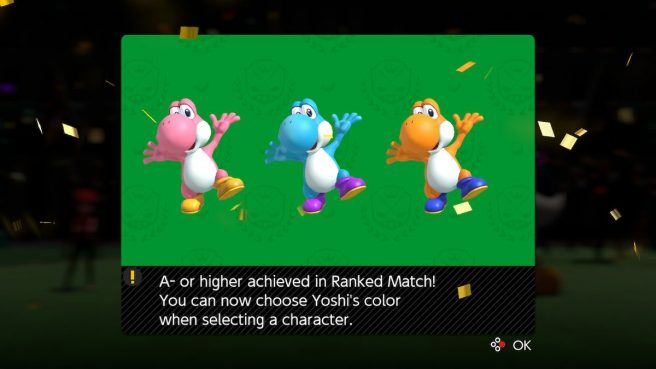 With April having just started up, Mario Golf: Super Rush is now offering new Yoshi colors as a Ranked Match reward.
The unlock process is the same this month as it's always been. Throughout April, players just need to hit the rank of A- or above in the online Ranked Match mode, which can be done by accumulating points. Points can be earned by playing these particular online matches, doing well in them, and taking down higher ranked opponents. After unlocking the colors, you'll see the image / message above. Then you should head over to the character screen in Mario Golf: Super Rush, hover over Yoshi, and pressing the "L" button to swap variations.
Nintendo's support for the game has largely ended at these point, but there have been a number of new costumes and color variations over the past few months. There's been a Boo visor, a few new colors for Toad, new colors for Koopa Troopa, Mario's classic overalls, a NES Open Tournament Golf outfit for Mario (as well as one for Luigi), and Shy Guy colors.
Mario Golf: Super Rush, which first launched in June 2021, is out now on Switch. You can visit the official website here.
Leave a Reply