Metroid: Samus Returns devs on decision to remake Metroid II, bringing back 2D Metroid, more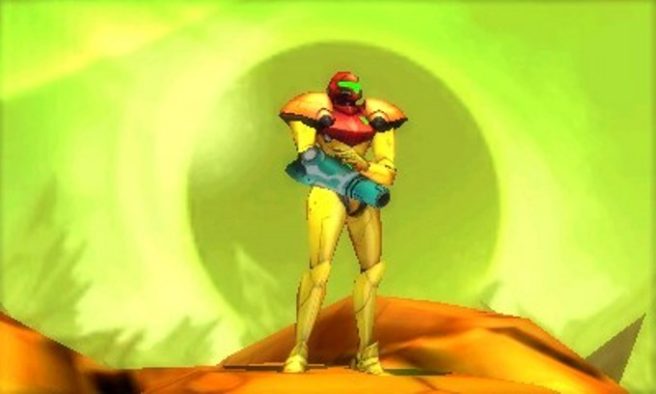 Game Informer caught up with two of the developers working on Metroid: Samus Returns at this year's E3. The site spoke with Nintendo producer Yoshio Sakamoto and José Luis Márquez of MercurySteam.
During the conversations, there was talk about why Metroid II is being remade and bringing back 2D Metroid. Sakamoto was also asked to clarify the story of making Samus female at the end of the original Metroid.
Continue on below for some excerpts from the interview. The full talk is over at Game Informer.
On the decision to remake Metroid II…
Sakamoto: Metroid II really hasn't been remade or revisited at this point at all and there are a lot of really interesting special things about Metroid II, so we just thought it would be great. And we think there are a lot of people that want to play it and we wanted to give them that opportunity.
Metroid II contains something that is really important to the Metroid franchise and that's the episode where Samus first encounters the baby Metroid. So, we really wanted to revisit that crucial story point on the Metroid timeline. And of course, Metroid II is a bit of an older game, so with the increased technology we have, we thought there are a lot of new things we could bring to it, to give it a little bit of a paint job, and add some really fun stuff. So that combined with the other things I mentioned were really the impetus behind revisiting this title.
On how long Nintendo has known this game would be coming…
Sakamoto: Of course we were very aware that there were a lot of fans out there clamoring for another 2D Metroid side-scrolling game. During development we would think, "Man, wouldn't it be nice to let everyone know we're doing this and make their day," but that's really up to the business-side folks to figure out when is the best time to do that and I am working on the development side.
On whether this is the same team as Castlevania: Lords of Shadow – Mirror of Fate…
Márquez: Yes. The main core of the team is composed of the main core of Mirror of Fate.
On what Sakamoto is most excited about in terms of bringing it back…
Sakamoto: For me, 2D Metroid gameplay is really the original Metroid gameplay, so bringing that back is really exciting. And this is a play experience you can only get with a 2D Metroid game. As someone who has wanted to make another 2D Metroid game for awhile, finally getting the chance to do that and work on this project has been a very happy experience for me. It's been nice to finally get the announcement out there. It's been an exceptionally great day for me. And of course we're lucky enough to be partnered up with a developer like MercurySteam and finally reveal that to the public.
On whether we can expect a scary Metroid with Samus Returns…
Sakamoto: Yeah, of course we're going to have the MercurySteam stamp on this title, since they have done all this work on it, but I don't think there has been a conscious effort to make Metroid a darker game or a scarier game as far as I know, but you should ask Jose to see what he thinks.
Márquez: If it is, maybe it's unconscious because we're fans of those things.
On the decision to make Samus a woman and reveal her gender at the end of Metroid…
Sakamoto: We were pretty much the majority of the way through the title and we thought it would be sort of fun as a gift or a present to the player to let them have a glimpse at who is inside the armor. So what could we do with that would be exciting and interesting to the player? And someone on staff suggested, "Well how about if the person inside the suit is a woman?" and we all said, "You know what? That's a great idea."
Leave a Reply