New Year's dev drawings – Zelda: Majora's Mask 3D, Kirby, Theatrhythm, more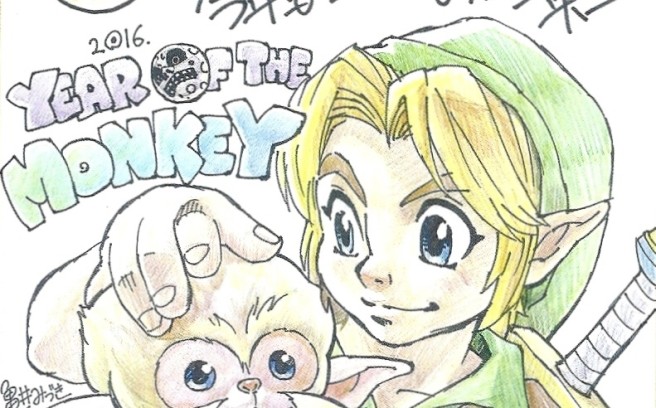 Japanese magazine Nintendo Dream is celebrating the start of 2016 in its latest issue. Various game developers and other key members related to the industry contributed handmade drawings, including representatives from Nintendo, Capcom, Square Enix, and more.
For the final time, we're sharing the various images featured in Nintendo Dream. The thrid set of drawings, rounded up in the gallery below, features Zelda: Majora's Mask 3D, and more. We also have text accompanying the shots (including many developer comments!) after the break.
Nintendo – Zelda Majora's Mask 3D

2016 is also the 30th anniversary of "The Legend of Zelda". To coincide with the Year of the Monkey, there's Mr. Monkey who appeared in "Majora's Mask 3D"! The designer for this game, Yusuke Nakano drew Link, and Mizuki Kamei drew Mr. Monkey and Kamaro.

GungHo Online Entertainment – Puzzle & Dragons: Super Mario Bros Edition

Kazuki Morishita (executive producer): Happy New Year!! When we speak of GungHo's 2015, it's the tag with the world hero "Mario" in "Puzzle & Dragons". A collaboration with Mario was a sincere wish both for the series and from myself, so 2015 became a year full of emotion. And now we're in a new year. We're using all our power to bring you many new game titles starting with Puzzle & Dragons X. Please kindly expect GungHo too in 2016!

Level-5

Akihiro Hino's comment (CEO): Happy New Year! This year's Nintendo Dream issues will also have a lot of information on Level-5 games, so please look forward to it. Finally, the information on that secret title will be…!

Note: Hino might just be referring to The Snack World given the card image.

Square Enix – Dragon Quest X

Yosuke Saito comment (producer): Thank you for another full year! Next year we'll also go full throttle and do our best. So please keep your continued support! This year's winter might become very cold, so be careful of catching a cold. Hope you have another fine year.

Chikara Saito's comment (director): Dear all adventurers, thank you for all of your support this year! We're going to make Astoltia an even more fun place, so we wish you best regards in 2016 too!

Square Enix – Theatrhythm Dragon Quest

Ichiro Hazama's comment (producer from Square Enix): Hi, I'm Hazama from Square Enix. Last year at this place, I said 'we'll keep continuing Theatrhythm from hereafter too!'. Well then, I wonder how about next year['s continuity]. Personally, I still want to continue, and everyday I have been devising various plans. I'm full with a feeling to do something to make it happen, so I'll be glad if you can wait with anticipation. With that being said, please keep supporting [the series] as usual from hereafter too!

Masanobu Suzui's comment (director from indieszero): Hello, I'm Suzui of indieszero. Are you still enjoying "Theatrhythm Dragon Quest"? The fun of daily and special challenges, raising favorite characters to the max limit, etc… It's full of replayability while still retaining the fun of the rhythm action [genre]! (There are also Easter eggs). Please enjoy it too during this New Year holiday!

Marvelous – Story of Seasons and Rune Factory 4

Yoshifumi Hashimoto's comment (producer): Celebrating Farm Story (Story of Seasons)'s 20th anniversary! The series continues to exist because I've met many people, users and creators, and everyone has lent their strength. I together with all of the staff thank you from our heart for these 20 years. And also "Rune Factory -New Farm Story-" has reached its 10th anniversary. It's been 10 years since it's been said "why battle in Farm Story!?", but I'm glad everyone still supported it. I almost cried when everyone said "this wouldn't sell" back then. So thanks.

Ensky – Kirby Copy-toru

Kirby's new [way of] play "Card Game", which is completed by the firm cooperation of 3 companies: Ensky, HAL Laboratory, and Warp Star. Please kindly play it too in the New Year holiday when people are gathering!
---
Thanks for making it to the end of this post! If you use any of this translation, please be sure to properly source Nintendo Everything. Do not copy its full contents.
Leave a Reply