Nintendo Direct live streams, blog (2/13/19)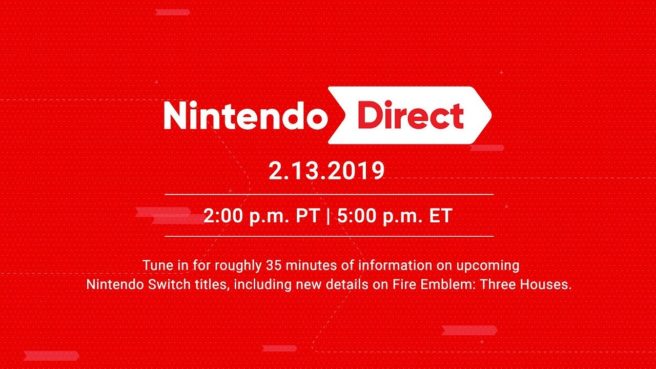 Nintendo Directs have been on a bit of a hiatus, but are finally back in a big way. A new presentation will be kicking off in an hour from now – 2 PM PT / 5 PM ET / 10 PM in the UK / 11 PM in Europe. It'll last about 35 minutes.
Nintendo has confirmed that Fire Emblem: Three Houses will have a presence here. Beyond that, things are a bit of a mystery. We'll all find out what Nintendo has in store for us very soon, and you can watch the event as it happens below. Devin will also be taking care of our live blog right in this post, though posts about important announcements will be added to the site as well (and after the show is over).
Live streams
Live blog
– To begin at 5 PM ET
Super Mario Maker 2
-Slopes Added
-New map elements
-New enemies
-Super Bell Power Up added
-June 2019 release
Marvel Ultimate Alliance 3
-Huge cast
-Stop Thanos and the Black Order
-Online or local 4-player play
-Captain marvel confirmed
-Each hero has an alliance extreme attack
-Releases Summer 2019
BoxBoy + BoxGirl
-New puzzles
-Two-player co-op play
-270 stages to complete
-April 26, 2019
Super Smash Bros. Ultimate
-Version 3.0 Update this Spring
-Joker coming before the end of April
-Snake, Simon, Squirtle, Ivysaur, Pokemon Trainer Amiibo coming throughout the year
Captain Toad Treasure Tracker
-Free co-op update coming later today
-Paid DLC coming, titled Captain Toad: Special Episode
-Pre=purchase live
-Includes new courses
Bloodstained: Ritual of the Night
-Gameplay shown
-Use abilities to traverse massive castle
-English dub available
-Character customization available
-Summer 2019
Dragon Quest Builders 2
-New retro-inspired map
-Exclusive costume available for owners of Dragon Quest Builders
-July 12, 2019
Dragon Quest 11 S
-Explore towns and terrain with your party
-Earn skill points to upgrade party members
-Side quests and activities available
-Can play in 16-bit version
-Fully orchestrated field and battle tunes
-English and japanese audio options
-New stories on different cast members
-Fall 2019
Disney Tsum Tsum Festival
-Play with friends in variety in co-op games, 4-player
-Online play
-Available 2019
Starlink: Battle for Atlas
-New missions coming involving Star Fox crew going up againts Star Wolf
-Each character has new abilities
-April 2019
Rune factory 4 Special
-Fully remastered
-Romance options available
-Available later 2019
-Rune Factory 5 in development
Oninaki
-Travel between living and dead
-Battle lost souls
-Souls defeated manifest within your character
-Deep, single player campaign
-Action RPG
-Summer 2019
Yoshi's Crafted World
-New gameplay shown, boss battles
-Earn costumes to give new abilities
-Demo available later today
-March 29th
Fire Emblem: Three Houses
-Set in continent of Fodlan
-Three ruling powers
-Avatar character customization
-Begin in mercenary group led by your father
-See a mysterious girl named Sothis
-Church of Serois is the main religion of Fodlan
-Edelgard is part of Black Eagles
-Dimitri is part of Blue Lions
-Claude is part of Golden Deer
-Will instruct members of each house
-Will send out students to learn and train from battle
-Train, learn skills at the centralized Officer's Academy
-Strengthen bonds between students, be stronger in battle
-July 26, 2019
-Limited edition confirmed
-Contains steelbook, sound selection usb, and pin badge set
Tetris 99
-Puzzle battle royale
-Online play
-Free to download for Nintendo Switch Online Members
-100 players, 1 winner
-Available today
-Online events
Dead by Daylight
-Killer vs. Survivor
-Online play confirmed
-Deep progression system
-Fall 2019
Deltarune Chapter 1
-Available for free
-February 28, 2019
Daemon X Machina
-Demo available later today
-4 different missions in the demo
-Boss battle in the demo
-Online survey going out to some demo players
-Summer 2019
GRID Autosport
-Difficulty scales to your skill
-All DLC included
-Motion and customized control confirmed
-Summer 2019
Hellblade Senua's Sacrifice
-Haunting vision quest through viking hell
-Spring 2019
Unravel 2
-March 22
-Local co-op
Assassins Creed III remastered
-May 21
-Motion controls
-All DLC packaged in
Final Fantasy 7
-March 26th
Final Fantasy 9
-Available later today
Chocobo's Mystery Dungeon Every Buddy!
-Releases next month
Astral Chain
-Hideki Kamiya involved
-Developed by Platinum Games
-Directed by Takahisa Taura (NieR Automata)
-Action RPG
-Coming August 30, 2019
Bayonetta 3
-development still hard at work
The Legend of Zelda: Link's Awakening
-Anime style cutscene shown
-Remake
-Coming 2019
Leave a Reply