[Nintendo Everything Podcast] – episode #18 – Pokemon Direct and Dirty Danish Words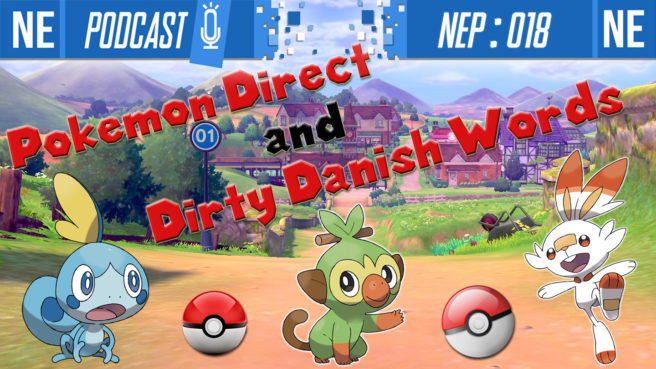 Hello, my starter Pokemon!
This week on NEP, it's nonstop Poketalk! We're talking all about the Pokemon Direct, our hopes for the upcoming Pokemon Sword and Shield, and the two films coming soon: Detective Pikachu and Mewtwo Strikes Back Evolution!
Come have a chill Poketime with us.
A big thank you to all of our listeners and to those who share the podcast and contribute to NEP's continued growth! Check below for more details and timestamps.
Timestamps:
03:31 – Adventure Logs: Tetris 99, Daemon X Machina Prototype Missions and more Tales of Vesperia
17:29 – Pokemon Direct impressions and discussion: visual style and graphics, environments, Galar region (and glorious Scottish twitter's reaction), how many new Pokemon, new starters! Sword or Shield?
41:03 – Pokemon film discussion: Detective Pikachu and Mewtwo Strikes Back Evolution
47:10 – Resident Evil 0, Remake and 4 coming to Nintendo Switch, but there's a pricing controversy.
52:51 – Additional DLC and Listener Mail: Yoshi series talk!
Additional DLC:
Send us an email and we'll discuss it!
NintendoEverythingPod [at] gmail [dot] com
Listener Bonus: Help the show grow and support us by giving us ☆5 STAR☆ iTunes review, likes and comments on YouTube, and share the Spotify playlist with your Nintendo-loving buddies!
Thank you!
YouTube
iTunes: https://itunes.apple.com/podcast/nintendo-everything-podcast/id1441241130?mt=2
Spotify: https://open.spotify.com/show/0zifaLm4st7KtUzDEojWBh
Direct Download
PocketCasts: https://pca.st/IQVa
Stitcher: https://www.stitcher.com/podcast/nintendo-everything-podcast
PlayerFM: https://player.fm/series/nintendo-everything-podcast
ListenNotes: https://www.listennotes.com/@NintendoEverythingPodcast/
PodTail: https://podtail.com/en/podcast/nintendo-everything-podcast/
News Discussed
Follow us on Twitter and Instagram
@NinEverything
twitter: @Oni_Dino
insta: Oni__Dino
@mobius087
A HUGE thank you to Headphones of Listening for NEP's intro music!
Check him out on soundcloud!
Leave a Reply