[Nintendo Everything Podcast] – episode #34 – E3 Discussion: Force Hype and Consume Product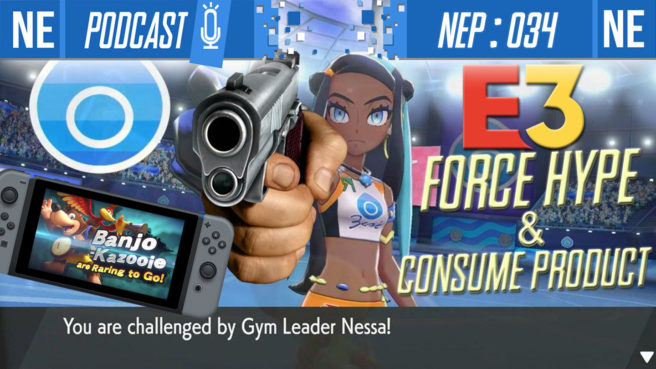 Hello my beautiful materia! We're closing out our celebration of E3 this week on NEP with another bonus episode. We start things off by discussing Final Fantasy VII Remake since Oni's been playing the original on Switch lately. We then chat about the event as a whole, how E3 changes moving forward into 2020 and what it means for the games industry as a whole. Galen and Oni also discuss Microsoft's Scarlett and trends in games at E3, too. Check below the break for more details and timestamps.
To celebrate E3, we've been putting out double content all month long! Check out our last 4 episodes! If you'd like to support our show, you can help out by sharing the show with someone who hasn't heard of us before, and by rating us 5 stars on iTunes! We really appreciate all your support!
Thank you so much for listening!
Timestamps:
04:43 – Adventure Log: Cadence of Hyrule and Final Fantasy VII on Switch
17:55 – Final Fantasy VII Remake at E3 discussion. Oni wants this game to be good, but he has some big concerns that need to be addressed. Oni and Galen analyze what we know so far and bring up issues for discussion. The gang also talks things they definitely do like and are excited for.
38:46 – General E3 impressions, gripes, and thoughts. Oni explains why he's skeptical of corporations like Bethesda trying to put their image out that they're "for gamers" and "about developers". Microsoft and Scarlett, Watch Dogs, Cyberpunk, lots of shooters, live services, roadmaps, subscription services.
1:05:42 – Things we're interested in, Ghostwire Tokyo, Gods and Monsters, Watchdogs 3,  and also what's up with Square Enix's Avengers game..? And finishing off with overall thoughts on E3 2019. What were our favorites from the show?
1:20:56 – Switch Mini rumors from a Chinese third party accessory maker. We don't care.
1:22:24 – Additional DLC
1:25:54 – Listener Mail: Co-op games to play with your spouse when you live in Norway!
Additional DLC
Shiina Ringo performance
https://youtu.be/6nhS9bqqgv0
Girlfriend Reviews
https://youtu.be/oMi4F6Nceds
Send us an email and we'll discuss it!
NintendoEverythingPod [at] gmail [dot] com
#nintendopodcast #gamingpodcast #podcast
Listener Bonus: Help the show grow and support us by giving us ☆5 STAR☆ iTunes review, likes and comments on YouTube, and share the Spotify playlist with your Nintendo-loving buddies!
Thank you!
YouTube
iTunes
https://itunes.apple.com/podcast/nintendo-everything-podcast/id1441241130?mt=2
Spotify
https://open.spotify.com/show/0zifaLm4st7KtUzDEojWBh
Direct Download
PocketCasts
Stitcher
https://www.stitcher.com/podcast/nintendo-everything-podcast
PlayerFM
https://player.fm/series/nintendo-everything-podcast
ListenNotes
https://www.listennotes.com/@NintendoEverythingPodcast/
PodTail
https://podtail.com/en/podcast/nintendo-everything-podcast/
Follow us on Twitter and Instagram
@NinEverything
twitter: @Oni_Dino / insta: Oni__Dino
@mobius087
A HUGE thank you to Headphones of Listening for NEP's intro music!
Check him out on soundcloud!
Leave a Reply