[Nintendo Everything Podcast] – episode #49 – Interview: A Hat In Time dev, Gears For Breakfast (feat. Jonas Kaerlev)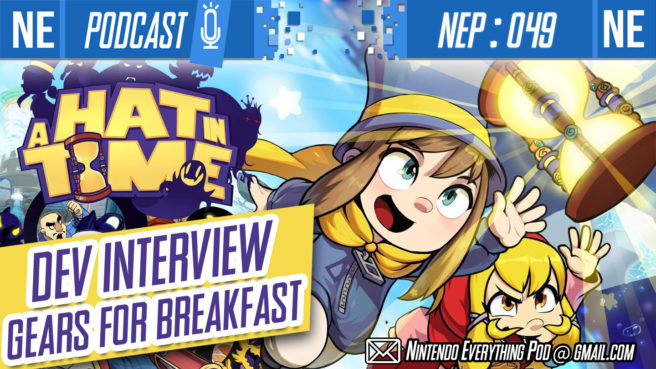 Hello, my spookies and cuties! This week on NEP, we have a special guest: Jonas Kaerlev of Gears For Breakfast, creators of A Hat In Time. Oni Dino and Galen chat with him about love for 3D platformers, game design philosophies, and a ton of underrated gems spanning across genres in gaming. In particular Jonas shares how they used their own branch of Unreal 3 on Switch, the necessity of trying new things in game development, and how they overcame Switch's limitations and created an amazing experience without any big compromises.
We then cover Doom Eternal's delay news and all the new details we've yet to discuss with Luigi's Mansion 3. Gooigi is still gross. Partner mechanic should've been Daisy. We stand by that.
If you're enjoying NEP, please consider giving us a 5 star review on Apple Podcasts, aka new iTunes. It's incredibly helpful in getting us exposed to new listeners through algorithms, so we would greatly appreciate your help. Thank you for listening!
Timestamps
03:19 – A chat with the creator of "A Hat In Time": Jonas! Founder, director, designer, writer, programmer!
41:33 – News: Galarian Ponyta is an icon, a legend, and she is the moment. Exclusive to Pokemon Shield. Galen talks about the competitive play aspect, and Oni Dino accidently offends an entire fandom…
47:21 – Doom Eternal delayed on all platforms. Switch version coming later than others. Doom 64 as a pre-order bonus on all platforms. Industry crunch and the surprising move that Bethesda made. Also, what is a "port" exactly?
59:06 – Luigi's Mansion 3 discussion! New gameplay, new trailers. Animations and art direction discussion; Canadian developers, Next Level Games, are knocking it out of the park. And a few concerns! And Gooigi is gross, it should've been Daisy. And inevitable talk about how much we love Paper Mario: Thousand Year Door.
1:11:50 – Additional DLC (and Oni Dino offends another group of people)
1:18:59 – Listener mail: (Oni Dino accidentally offends our entire listener-base)
Send us an email and we'll discuss it!
[email protected]gmail.com
Additional DLC
Listener Bonus: Help the show grow and support us by giving us ☆5 STAR☆ iTunes review! Thank you!
YouTube
Apple Podcasts / iTunes: https://apple.co/2xLl0C5
Spotify: https://spoti.fi/2Gdgoch
Direct Download
PocketCasts: https://pca.st/IQVa
Stitcher: https://bit.ly/30uxOZR
PlayerFM: https://bit.ly/2yfCu9P
ListenNotes: https://bit.ly/2SINTbG
PodTail: https://bit.ly/2yfDgDL
Oni Dino's YouTube "Gayme Married": https://bit.ly/2JK21xd
Oni Dino's Twitter: @Oni_Dino
Oni Dino's Insta: Oni__Dino
Galen's Twitter: @mobius087
Galen's Insta: true_mobius
HUGE thank you to Headphones of Listening for NEP's intro music! Check him out on soundcloud!
Leave a Reply