[Nintendo Everything Podcast] – episode #51 – Persona 5 Scramble: secretly just Kingdom Hearts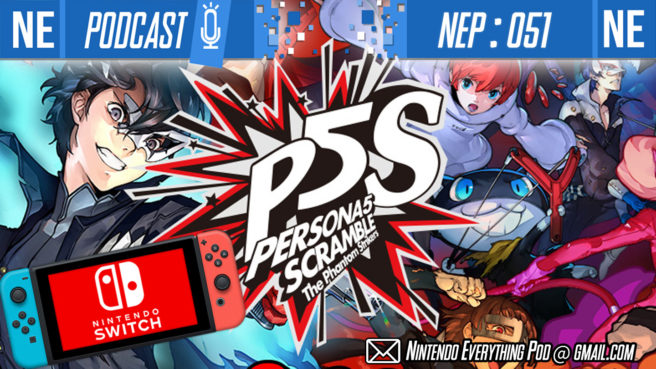 Hello, my phantom thieves! This week on NEP, we're introducing our Fallout 76 inspired subscription membership service: Nintendo Everything Podcast 1st. It just works! Then we comb over all the details of Persona 5 Scramble, which Galen has a "Revelation" about… Oni isn't pleased, but quickly regains happiness as the gang discuss Swery and Suda51's new collab project. And, of course, the weekly dose of Pokemon gets added to the mix, as well.
If you're enjoying NEP, please consider giving us a 5 star review on Apple Podcasts, aka new iTunes. It's incredibly helpful in getting us exposed to new listeners through algorithms, so we would greatly appreciate your help. Thank you for listening!
This week, the podcast is sponsored by Koei Tecmo. Check out Atelier Ryza: Ever Darkness & the Secret Hideout, releasing on Nintendo Switch October 29th in North America, November 1st in Europe.
Timestamps:
11:40 – Adventure Log: The Alliance Alive HD Remastered, Tetris 99 updates
37:42 – News: Doom 64 release moves from November to March. Persona 5 Scramble: The Phantom Strikers! Oni Dino is super excited for this.
53:09 – Suda51 and Swery announce a collaboration project: a horror game tentatively titled, The Hotel Barcelona. Creativity flows through these men, and therefore, so does Oni Dino's dollars.
1:01:51 – Pokemon Sword and Shield and the weekly dose of information and maybe controversy. No voice acting because it's too much work? Commercial being a sore spot with people want the national dex.
1:17:52 – Additional DLC
1:20:32 – Listener mail: Tokyo Mirage Sessions talk!
Send us an email and we'll discuss it!
[email protected]gmail.com
Additional DLC:
Listener Bonus: Help the show grow and support us by giving us ☆5 STAR☆ iTunes review! Thank you!
YouTube
Apple Podcasts / iTunes: https://apple.co/2xLl0C5
Spotify: https://spoti.fi/2Gdgoch
Direct Download
PocketCasts: https://pca.st/IQVa
Stitcher: https://bit.ly/30uxOZR
PlayerFM: https://bit.ly/2yfCu9P
ListenNotes: https://bit.ly/2SINTbG
PodTail: https://bit.ly/2yfDgDL
Oni Dino's YouTube "Gayme Married": https://bit.ly/2JK21xd
Oni Dino's Twitter: @Oni_Dino
Oni Dino's Insta: Oni__Dino
Galen's Twitter: @mobius087
Galen's Insta: true_mobius
HUGE thank you to Headphones of Listening for NEP's intro music! Check him out on soundcloud!
Leave a Reply