[Nintendo Everything Podcast] – episode #55 – Game Awards predictions and reactions, Animal Crossing subscription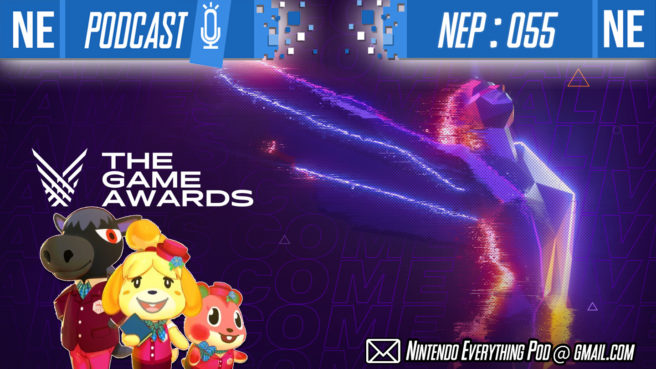 Hello my happy helpers and fortune cookies! This week on NEP, Oni Dino and Galen are talking The Game Awards, the industry and mobile monetization schemes. We chat about the nominees, snubs, predictions for Nintendo and past instances—new Smash DLC fighter? Metroid? Bayonetta? Who knows! Let's keep it logical, though.
Then we tackle Animal Crossing Pocket Camp getting a subscription service with a very opinionated argument over if free-to-play games like these should even be considered games. We finish things off with some Pokemon talk on the new designs, and the Gizmodo situation in our listener mail segment.
If you're enjoying NEP, please consider giving us a 5 star review on Apple Podcasts, aka new iTunes. It's incredibly helpful in getting us exposed to new listeners through algorithms, so we would greatly appreciate your help. Thank you for listening!
Timestamps:
09:12 – Adventure Log: Atelier Ryza, Luigi's Mansion 3, Destiny Connect
38:00 – News: The Game Awards. Nominee discussion. GOTY discussion. Death Stranding discussion. When is it good for a producer to get involved in a creative's process?
1:03:21 – News: The Game Awards. Predictions! What might Nintendo have in store for us? We think realistically, then we think for fun. Smash DLC character announcement?
1:11:38 – News: Animal Crossing Pocket Camp subscription services and a discussion of microtransactions, monetization structures in mobile gaming and other gaming—Oni Dino argues that these are not games.
1:30:37 – Additional DLC
1:33:35 – Listener mail: Pokemon, designs, Warframe, Kotaku and Gizmodo Group Schadenfreude, being a better person, Hong Kong.
Send us an email and we'll discuss it!
[email protected]gmail.com
Additional DLC:
Listener Bonus: Help the show grow and support us by giving us ☆5 STAR☆ iTunes review! Thank you!
YouTube
Apple Podcasts / iTunes: https://apple.co/2xLl0C5
Spotify: https://spoti.fi/2Gdgoch
Direct Download
PocketCasts: https://pca.st/IQVa
Stitcher: https://bit.ly/30uxOZR
PlayerFM: https://bit.ly/2yfCu9P
ListenNotes: https://bit.ly/2SINTbG
PodTail: https://bit.ly/2yfDgDL
Oni Dino's YouTube "Gayme Married": https://bit.ly/2JK21xd
Oni Dino's Twitter: @Oni_Dino
Oni Dino's Insta: Oni__Dino
Galen's Twitter: @mobius087
Galen's Insta: true_mobius
HUGE thank you to Headphones of Listening for NEP's intro music! Check him out on soundcloud!
Leave a Reply