[Nintendo Everything Podcast] – episode #65 – Switch outsells SNES; Pokemon HOME? More like Pokemon GROAN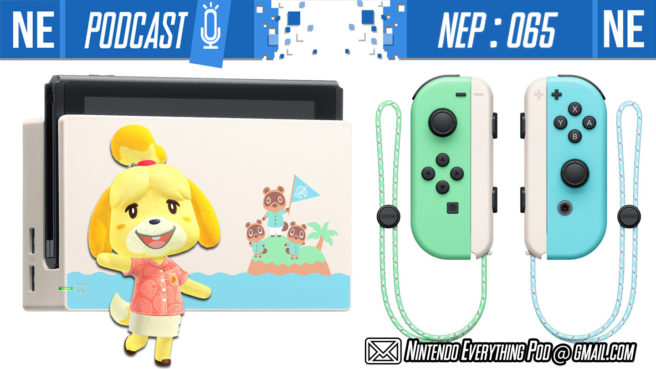 Hello, my beautiful animal buddies! This week on NEP, we've got a lot of games under our belt: Tokyo Mirage Sessions, Dragon's Crown Pro, and Byleth impressions from Smash. Then, we fawn over how gorgeous this new Animal Crossing: New Horizons limited edition Switch is. And the big news about Switch outselling the SNES in under 3 years. Has Switch really been this successful? It's surreal. Also surreal is the details finally releasing on Pokemon HOME. It's a mixed bag, and most reaction has been less than great. And some more details on Super Nintendo World opening in Universal Studios Japan in Osaka this summer.
If you're enjoying NEP, please consider giving us a 5 star review on Apple Podcasts, aka new iTunes. It's incredibly helpful in getting us exposed to new listeners through algorithms, so we would greatly appreciate your help. Thank you for listening!
Timestamps:
16:48 – Adventure Log: Impressions on Byleth in Smash.
23:36 – Adventure Log: Tokyo Mirage Sessions #FE Encore
36:30 – Fawning over the limited edition Animal Crossing Switch design!
40:02 – Adventure Log: Dragon's Crown Pro on PS4
51:12 – News: Grasshopper Manufacture event in Tokyo – No More Heroes 3 talk and Suda51 goodness! Plus Kamikaze Douga animation studios, the people behind NMH3's The Return trailer from the VGAs 2019, and Batman Ninja.
1:00:55 – News: Pokemon HOME details revealed. Surprising no one, it's mixed to negative.
1:14:39 – News: Nintendo Financial Results. Switch already outsold the SNES. Nintendo World in Osaka Universal Studios Japan. Diversifying interests.
1:33:26 – Additional DLC
1:43:34 – Listener Mail: More Byleth!
Additional DLC:
Business inquiries and listener mail contact:
NintendoEverythingPod@gmail.com
Listener Bonus: Help the show grow and support us by giving us ☆5 STAR☆ iTunes review! Thank you!
YouTube
Apple Podcasts / iTunes: https://apple.co/2xLl0C5
Spotify: https://spoti.fi/2Gdgoch
Direct Download
PocketCasts: https://pca.st/IQVa
Stitcher: https://bit.ly/30uxOZR
PlayerFM: https://bit.ly/2yfCu9P
ListenNotes: https://bit.ly/2SINTbG
PodTail: https://bit.ly/2yfDgDL
Oni Dino's YouTube "Gayme Married": https://bit.ly/2JK21xd
Oni Dino's Twitter: @Oni_Dino
Oni Dino's Insta: Oni__Dino
Galen's Twitter: @mobius087
Galen's Insta: true_mobius
HUGE thank you to Headphones of Listening for NEP's intro music! Check him out on soundcloud!
Leave a Reply