[Nintendo Everything Podcast] – episode #67 – Is E3's importance waning? And unhealthy hype trains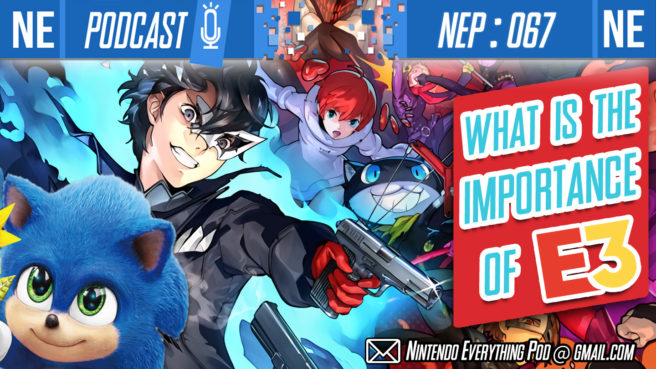 Hello, my beautiful sewer babies! This week on NEP, our big talk is on E3. With Sony gone (for good probably) but Nintendo still attending, Oni Dino and Galen take a look at the burning question: Is E3's importance waning? There's a lot of elements at play on both the consumer side and the business side, and we throw our hats into the ring. Plus, we're talking mixed first impressions on Persona 5 Scrambled Eggs, Fire Emblem: Three Houses wave 4 DLC: Cindered Shadows, the Sonic film's release (with a shocking mention of Pee Wee Herman) and generally unhealthy mindsets in the gaming community—a discussion sparked by… you guessed it: Pokemon Sword and Shield. Let's Gaming!
If you're enjoying NEP, please consider giving us a 5 star review on Apple Podcasts, aka new iTunes. It's incredibly helpful in getting us exposed to new listeners through algorithms, so we would greatly appreciate your help. Thank you for listening!
Timestamps:
05:10 – Adventure Log: Persona 5 Scramble: The Phantom Strikers
16:48 – Adventure Log: Dragon's Crown Pro
26:02 – News: Fire Emblem: Three Houses Wave 4 DLC Ashen Wolves releases
32:22 – News: Sonic the Hedgehog film released this week. We didn't see it.
36:44 – News: Pokemon crashing your Pokemon in Sword and Shield—maybe.
48:07 – News: Nintendo confirms E3 2020 presence. What is the importance of E3? Let's take a look at it from the consumer side and the business side.
1:16:29 – Additional DLC
1:20:09 – Listener Mail
Additional DLC:
Business inquiries and listener mail contact:
[email protected]gmail.com
Listener Bonus: Help the show grow and support us by giving us ☆5 STAR☆ iTunes review! Thank you!
YouTube
Apple Podcasts / iTunes: https://apple.co/2xLl0C5
Spotify: https://spoti.fi/2Gdgoch
Direct Download
PocketCasts: https://pca.st/IQVa
Stitcher: https://bit.ly/30uxOZR
PlayerFM: https://bit.ly/2yfCu9P
ListenNotes: https://bit.ly/2SINTbG
PodTail: https://bit.ly/2yfDgDL
Oni Dino's YouTube "Gayme Married": https://bit.ly/2JK21xd
Oni Dino's Twitter: @Oni_Dino
Oni Dino's Insta: Oni__Dino
Galen's Twitter: @mobius087
Galen's Insta: true_mobius
HUGE thank you to Headphones of Listening for NEP's intro music! Check him out on soundcloud!
Opening and closing songs provided by Clay Kramer on YouTube. Check him out!
Leave a Reply