[Nintendo Everything Podcast] – episode #86 – Tencent x Pokemon MOBA, Min Min in Smash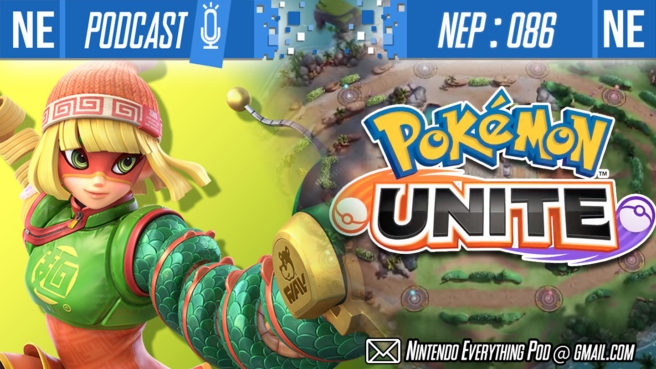 This week on Nintendo Everything Podcast, it's a celebration of China with Pokemon Unite and Min Min in Smash. It's a news-focused episode with game announcements, debuts, updates, and a controversy. Suda51's pixelated face mimics Andross in the No More Heroes 3 gameplay teaser, but we're not deterred. We're also just as unsure as Suda if it'll release this year. We also celebrate the consumer-positive Final Fantasy Crystal Chronicles Remastered's lite version. Have any other games done something this generous before?
Check out links and timestamps below, and come hang out.
If you're enjoying NEP, please consider giving us a 5 star review on Apple Podcasts, and share us with a friend. It's incredibly helpful in getting us exposed to new listeners through algorithms, so we would greatly appreciate your help. Thank you for listening!
Timestamps:
05:15 – Adventure Log: Bloodroots
19:23 – News: Min Min announced for Super Smash Bros. Ultimate
29:30 – News: Animal Crossing: New Horizons first summer update
34:45 – News: Pokemon x Tencent presents Pokemon Unite, the PokeMoba
50:29 – News: Curse of the Moon 2 announced
52:52 – News: No More Heroes 3 gameplay teased
56:43 – News: ATLUS won't let you stream or share Catherine: Full Body for Nintendo Switch
1:02:37 – Final Fantasy Crystal Chronicles Remastered reveals Lite version
1:07:11 – The World Ends With You getting an anime
1:09:21 – Ninjala hits 1 million downloads in the first day
1:10:55 – Additional DLC & Listener Mail
Additional DLC:
Business inquiries and listener mail contact:
#nintendopodcast #gamingpodcast #podcast
YouTube
Apple Podcasts / iTunes: https://apple.co/2xLl0C5
Spotify: https://spoti.fi/2Gdgoch
Direct Download
PocketCasts: https://pca.st/IQVa
Stitcher: https://bit.ly/30uxOZR
PlayerFM: https://bit.ly/2yfCu9P
ListenNotes: https://bit.ly/2SINTbG
PodTail: https://bit.ly/2yfDgDL
Oni Dino's YouTube "Gayme Married": https://bit.ly/2JK21xd
Oni Dino's Twitter: @Oni_Dino
Oni Dino's Insta: Oni__Dino
Galen's Twitter: @mobius087
Galen's Insta: true_mobius
HUGE thank you to Headphones of Listening for NEP's intro music! Check him out on soundcloud!
Leave a Reply