[Nintendo Everything Podcast] – episode #95 – Super Mario: 35 and feeling it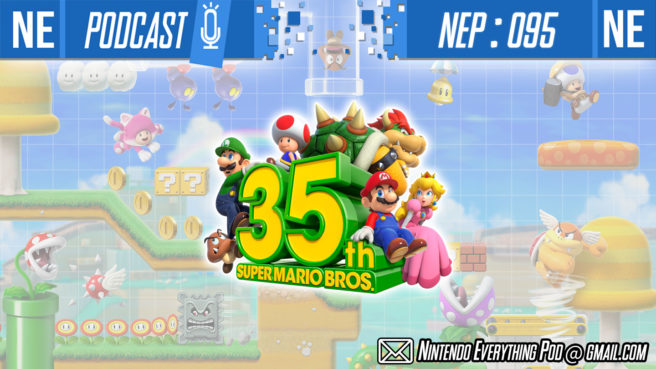 This week on Nintendo Everything Podcast, we're celebrating Super Mario's 35th anniversary. The 3D All-Stars bundle is real, but there are some potential issues. Limited availability? Control schemes? Widescreen? Then a brand new Mario Kart (sorta) that's gonna be the Xmas gift of 2020 (maybe), 3D World getting an updated port, a Super Mario Bros. semi-battle royale, and a lot more. Galen's on vacation so Barry's subbing in for him.
Check out links and timestamps below and come hang out.
If you're enjoying NEP, please consider giving us a 5-star review on Apple Podcasts, and share us with a friend. It's incredibly helpful in getting us exposed to new listeners through algorithms, so we would greatly appreciate your help. Thank you for listening!
Timestamps:
– 02:56 – Adventure Log: Evoland
– 11:35 – Adventure Log: Giraffe and Annika
– 23:11 – Adventure Log: Uncharted series retrospective
– 35:13 – Adventure Log: Dodo Peak
– 44:14 – Adventure Log: Premium Edition Games
– 47:36 – News: Final Fantasy Crystal Chronicles Remastered director apologizes for online issues, moving forward to fixing soon.
– 52:44 – News: Old portable, dockable Gamecube patent leaks. Discussion of the Wii and general gaming technology
– 1:05:11 – News: Super Mario 35th anniversary Nintendo Direct!
– 1:54:23 – Additional DLC & Listener Mail
Additional DLC:
– Crafting A Tiny Open World: A Short Hike Postmortem
https://youtu.be/ZW8gWgpptI8
– Dragalia Foundry
https://www.youtube.com/DragaliaFoundry
Business inquiries and listener mail contact:
#nintendopodcast #gamingpodcast #podcast
YouTube
Apple Podcasts / iTunes: https://apple.co/2xLl0C5
Spotify: https://spoti.fi/2Gdgoch
Direct Download
PocketCasts: https://pca.st/IQVa
Stitcher: https://bit.ly/30uxOZR
PlayerFM: https://bit.ly/2yfCu9P
ListenNotes: https://bit.ly/2SINTbG
PodTail: https://bit.ly/2yfDgDL
Oni Dino's Twitter: @Oni_Dino
Oni Dino's Insta: Oni__Dino
Oni Dino's other, interactive podcast: https://bit.ly/3i7jjo6
Galen's Twitter: @mobius087
Galen's Insta: true_mobius
HUGE thank you to Headphones of Listening for NEP's intro music! Check him out on soundcloud!
Ending song by @Cyranek
Leave a Reply