[Nintendo Everything Podcast] – episode #99 – Minecraft Kirby is the best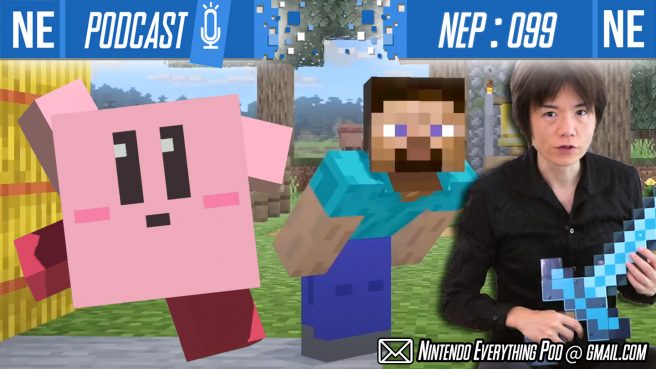 This week on Nintendo Everything Podcast, Minecraft Kirby blesses us with his presence. Galen goes for treats in Animal Crossing: New Horizon's Halloween update, while Oni Dino joins the briny depths of The Sinking City. The news is quite hearty this week with Super Mario Bros 35, Mario Kart Home Circuit details, Live A Live revival teases, Pokemon DLC, and the big one: Minecraft Steve in Super Smash Bros Ultimate. We're fans of his moveset despite not feeling one way or the other about his character. Regardless, Minecraft Kirby is here.
Check out links and timestamps below and come hang out.
If you're enjoying NEP, please consider giving us a 5-star review on Apple Podcasts and share us with a friend. It's incredibly helpful in getting us exposed to new listeners through algorithms, so we would greatly appreciate your help. Thank you for listening to our Nintendo podcast!
Timestamps:
– 04:19 – Adventure Log: Animal Crossing: New Halloween and lucrative wholesomeness
– 20:33 – Adventure Log: The Sinking City and charming jank in mid-tier games
– 38:02 – News: Super Mario Bros 35 and Galen's experience
– 46:16 – News: How Mario Kart Home Circuit works
– 52:54 – News: Live A Live lives?
– 57:20 – News: Pokemon Sword and Shield expansion pass DLC Frozen Tundra or whatever
– 1:06:03 – News: Minecraft Kirby (and Steve, too) in Super Smash Bros. Ultimate
– 1:18:42 – Additional DLC and Listener Mail: Emulation bad? Super Mario 64?
Additional DLC:
– The Best Way to Play Super Mario 64 / MY LIFE IN GAMING
youtu.be/VZBsV6dExZc
– Mario Bros. for Atari Commercial
youtu.be/dduvx-dEySY
Business inquiries and listener mail contact:
[email protected]
#nintendopodcast #gamingpodcast #podcast
YouTube
Apple Podcasts / iTunes: https://apple.co/2xLl0C5
Spotify: https://spoti.fi/2Gdgoch
Direct Download
PocketCasts: https://pca.st/IQVa
Stitcher: https://bit.ly/30uxOZR
PlayerFM: https://bit.ly/2yfCu9P
ListenNotes: https://bit.ly/2SINTbG
PodTail: https://bit.ly/2yfDgDL
Oni Dino's Twitter: @Oni_Dino
Oni Dino's Insta: Oni__Dino
Oni Dino's interactive podcast on GetVokl: https://bit.ly/3mdWamo
Galen's Twitter: @mobius087
Galen's Insta: true_mobius
HUGE thank you to Headphones of Listening for NEP's intro music! Check him out on soundcloud!
Ending song by @QumuMusic on twitter
Leave a Reply