Nintendo offering Splatoon 2 Special Demo, comes with discount and Nintendo Switch Online trial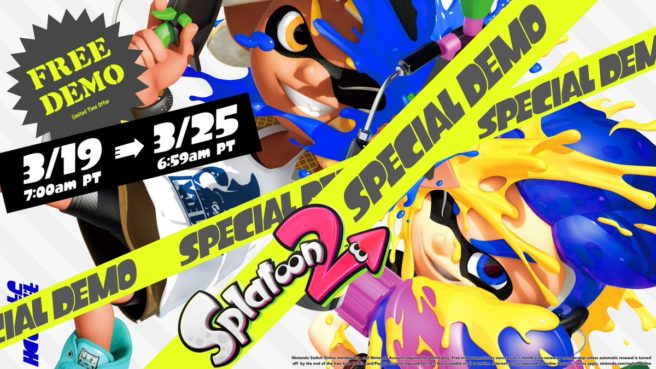 Nintendo has announced a new Splatoon 2 Special Demo. It goes live on the eShop today, and can be played for a week starting tomorrow morning.
Even if you have Splatoon 2, you may want to download the demo regardless. For one thing, users will be emailed a seven-day free trial for Nintendo Switch Online. If you don't have Splatoon 2, you'll be able to save 20% during the demo period.
Here's the full announcement from Nintendo:
If you're not among the roughly 8 million owners worldwide that have already jumped into the deep end to enjoy the ink-splattering fun of Splatoon 2 for Nintendo Switch, Nintendo has a whale of a deal to help you test the waters. Players with an internet connection and a Nintendo Switch Online membership can join in the Splatoon 2 Special Demo between 7 a.m. PT on Tuesday, March 19, and 6:59 a.m. PT on Monday, March 25.

That means you'll get to check out 4-on-4 Turf War battles as well as Salmon Run, League Battle and Ranked Battle modes online with your friends and other players who own the full game. Cover the turf with your team's colorful ink, customize your look with different weapons and apparel, and splat your enemies in an all-out ink-stravaganza!

The Splatoon 2 Special Demo is available starting today in Nintendo eShop for Nintendo Switch. After downloading it, you'll receive an email with a Nintendo eShop code to activate a seven-day free trial for Nintendo Switch Online. You can use the code even if you've had a previous free trial.

If the free demo makes you happy as a clam and you want to buy the full Splatoon 2 game, you'll get a 20 percent discount if you buy it via Nintendo eShop during the demo period. As an extra bonus, you'll even be able to transfer your demo progress over.

For more information about the Splatoon 2 Special Demo, visit https://splatoon.nintendo.com. Fans looking to pick up battle tips or cheer on North America's top competitors can watch the Splatoon 2 North America Inkling Open 2019 on March 30. Visit https://events.nintendo.com/ for more information and the live broadcast.
Source: Nintendo PR
Leave a Reply