Nintendo shows off original Splatoon prototypes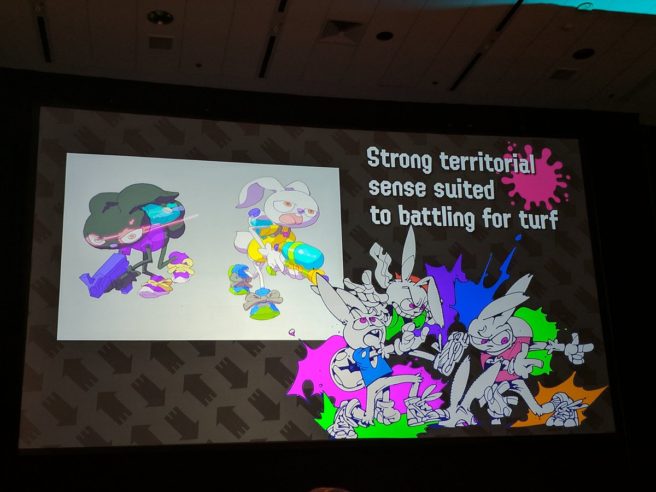 At GDC today, Splatoon and Splatoon 2 producer Hisashi Nogami is hosting a special panel. The talk was highlighted by showing prototypes for the first game.
When Nintendo was first developing Splatoon, we heard in an Iwata Asks interview series that the team messed around with various concepts and ideas like tofu and rabbits. We now have new images and details about what took place during development.
Here's the roundup:
– After discussing ideas for half a year, the team came up with a prototype
– This was cubes that could shoot black and white ink, which came to be known as tofu
– Linking together multiple Wii Us, they held team battles and tried to cover as much of the ground with their team's ink
– This became the game's core mechanic
– They explored ways to leverage the Wii U's unique features like motion control and the GamePad
– While his team didn't set out to create a shooting game from the start, it involved into this
– With a new world, you need new characters
– The characters in Splatoon are squids that can transform into humans
– People are often surprised when hearing this, so why is this?
– The first prototype was with rabbits
– They're both black and white, and also highly territorial
– Their neutral colors would also contrast well with bright ink colors
– But why would they shoot or hide in ink? There was a disconnect between the idea and mechanics
– To help solidify direction, Sakaguchi helped identify the core mechanics with shooting, swimming in ink, etc.
– There were all sorts of character design ideas
– When they discovered a core idea of "moving quickly through ink as swimming," the idea of a squid stood out
– The E3 2014 trailer was put together by Amano which showed off the key points of the game: gameplay, sound, artstyle
– Individual team members then proposed their own ideas to help flesh our the world, and it began to take shape
– Ideas such as popular music that squid kids listen to during battle helped prop up the world, and made it more convincing by creating content not directly related to the game's core concepts
– To give an analogy: they created a container, then tossed balls into it, filling it up
– Not just unique to Splatoon, as Nintendo has long relied on this sort of method
– Many challenges to prepare it for release as a new IP
– Releasing stages, weapons, modes, as time went on would help people become intricately familiar with all parts
– Balance adjustments were important to keeping players engaged
Leave a Reply