Phoenix Wright: Ace Attorney – Spirit of Justice devs give detailed insight into various characters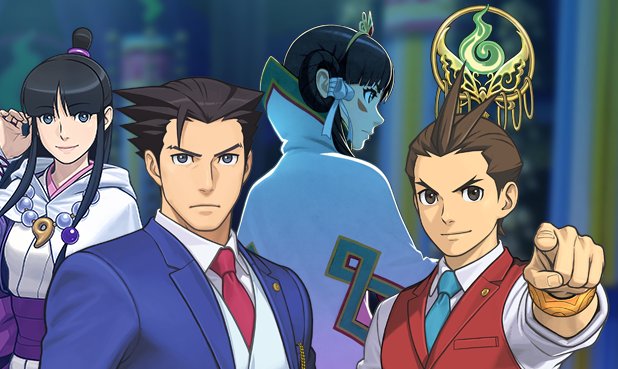 Case 1 characters
Ahlbi Ur'gaid
– Since he's a tour conductor, they based his name on the phrase "Boku to Tour ni ikou / Let's go on a tour with me" (that becomes "I'll be your guide")
– His name can also be based from Bokutotsu, which can either mean unsophisticated or naive.
– He's the first character Phoenix meets in Khura'in. By making him a tour guide, he becomes the basis on how Khura'inese people look like in general.
– Ahibi was there from the early phases of development. Fuse even put much consideration into designing him as he's a foreign character that appears right at start of the story.
Mitamaru, Ahibi's dog
– Fuse wanted to add a Tibetan Mastiff dog, so he created Mitamaru by himself as he already had the authority as the art director.
– Fuse likes birds and dogs very much. Since they already had a bird previously, he wanted to make a dog next.
– Mitamaru is created to further deepen Ahibi's character. In the end, not even Fuse could expect how Mitamaru had so much performance.
– Eshiro hopes it can achieve some popularity. The interviewer added it should be like how Missile (Detective Gumshoe's dog) did.
– Eshiro noted that the real Tibetan Mastiff becomes scary once it grows up though.
Gaspen Payne
– Since Case 1 starts in a foreign country, they were worried a bit on how to deal with the Case 1 prosecutor, until they remembered that a certain someone was expelled from his home country.
– Since Khura'in is a country with no defense attorneys, even someone like Payne will get carried away. So the staff worked on how to unleash that.
– Payne received the nickname "The All-Victorious Payne" because of the lack of attorneys. That's why he assumes the position of chief prosecutor while wearing his bling-bling. However, actually he was trying to get familiar with the Khura'in kingdom.
Potdino Nikawas
– His Japanese name means: Pot-de no Niwaka, an impromptu play that comes out straight from the pot
– When he speaks, he has a 'Po' sound effect that's going to stick in some people's ears. The sound staff was told to specifically make this, and a good portion of the game size is used only for this sound effect.
– Since they wanted to improve the feel of a foreign country, as one of the solutions they made something that feels like a folk song. They had Rayfa's dance at first, so they wondered if they could make something else related to that.
– In short, the team used the entire Case 1 to make a proper presentation of the Khura'in kingdom.
– Potdino's instrument is a fictional one named Damaran, though Eshiro said he wanted to believe that it actually existed.
– They mixed sounds from various folk music instruments for the sound of this Damaran instrument. The sound staff did a good job with making an almost authentic instrument sound, and Eshiro ended up getting deceived by it (thinking that it actually existed)
– Since he appears in Case 1, they made Potdino with an emphasis to have some impact and being powerfully dubious at the same time.
– The Japanese name of Case 1's victim, Mima Walhit, comes from Mimawaru Hito, which means a Patrolling Person.
Leave a Reply