Phoenix Wright: Ace Attorney – Spirit of Justice devs give detailed insight into various characters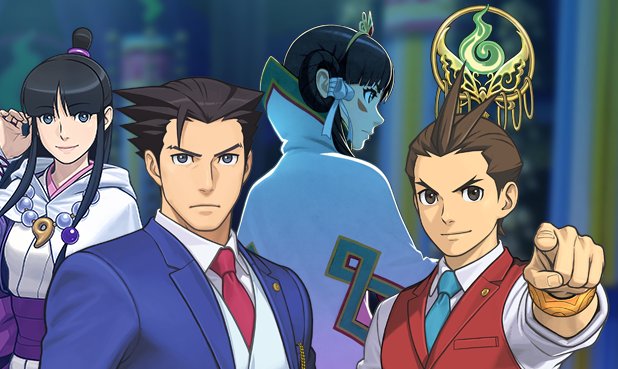 Last month, we shared some excerpts from a Phoenix Wright: Ace Attorney – Spirit of Justice developer interview included in a recent issue of Japanese magazine Nintendo Dream. If you missed it, head on over here for tidbits about Maya's return, scrapped ideas, and more.
What we translated didn't actually cover Nintendo Dream's entire discussion. There were also several pages dedicated entirely to talk about the different characters in the game, ranging from big ones like Phoenix and Apollo up through new additions such as Ahlbi. We now have an extremely lengthy summary based on the interview with Motohide Eshiro (producer), Takeshi Yamazaki (director), and Takuro Fuse (co-director).
If you decide to proceed, be aware that there are some light spoilers. The summary covers characters included in multiple cases.
Page 1: Phoenix Wright, Apollo Justice, Athena Cykes
Page 2: Maya Fey
Page 3: Rayfa Padma Khura'in (bonus: early concept art)
Page 4: Nahyuta Sahdmadhi (bonus: early concept art)
Page 5: Case 1 characters
Page 6: Case 2 characters
Page 7: Case 3 characters
Protagonists
Phoenix Wright
– Since only one year has passed since Dual Destinies, there are no changes in his design. However, they did refine his 3D model, and the model in this game is totally different.
– They began reworking the returning characters after they finished the new main characters like Rayfa. When they tried lining up the new characters with returning characters from Dual Destinies, they noticed a significant gap in the 3D model qualities.
– They ended up reworking every single character, so Eshiro had a hectic time managing the schedule and budget.
– On the method of drawing Phoenix, Yamazaki re-iterates the previous discussion about the scenario, where the super attorney Phoenix Wright fights against a powerful enemy, and Apollo looks up to him.
Apollo Justice
– Like Phoenix, they didn't change the design for Apollo, but they did rework his 3D model. They also put attention into drawing Apollo's character, since this game is also a story of him growing up, so they prepared situations where he needs to do his best without Phoenix's presence in episode 2 and beyond.
– In Dual Destinies, while Apollo did do a lot, ultimately Phoenix was the protagonist, and Apollo was just a 'shadow protagonist' behind him. However, this time they wanted to make proper dual protagonists, so they prepared more scenes for Apollo to perform.
– Fuse noted that Yamazaki likes Apollo so much. Yamazaki continued that he's satisfied with the tag-team between Apollo and Athena. By having a senior and junior relation, it helps make Apollo stand out, and at the same time they're also able to establish Athena's character and make a good balance between them.
Athena Cykes
– Her role significance dropped a bit from Dual Destinies, however she should still perform as a great partner. She has established a stable position, and so is her character.
– She still performs a lot with the Mood Matrix. Yamazaki thinks it's good that they can have separate main gameplay systems in each country: Divination Seance in Khura'in and Mood Matrix in the home country.
– If they put in too many systems, players may end up feeling that they hinder the experience, so they had to implement them carefully.
Leave a Reply