Reggie – Nintendo still "all in" on amiibo, more announcements to come, future of the "Classics" line, more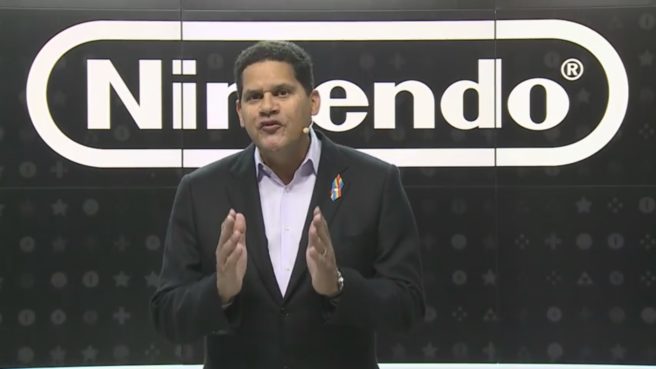 Game Informer has published its own interview with Nintendo of America president Reggie Fils-Aime at E3. The two sides chatted about amiibo, future announcement, what lies ahead for the "Classics" brand (like the NES/SNES Classic Edition), and more.
We've picked out some of the notable excerpts from the interview below. You can read the full discussion on Game Informer here.
On whether Nintendo is still all in on amiibo…
We continue to be all in. Amiibo within the toys-to-life category has always been different. It's been a message you can use your Amiibo across a range of different content and experiences. When you do use it, it really does add some significant value. To be honest, I traveled to E3 with eight of my Zelda Amiibo so I could continue to get those items as I put more and more hours into [The Legend of Zelda: Breath of the Wild.]
We use Amiibo to add value to the experience, versus being a unique game or single idea. It really is leveraging these figures across a range of different experiences.
On whether we can expect more announcements in the months ahead for 2018, or is what we saw at E3 the bulk of the lineup…
We're going to continue to make announcements. E3 is not the only opportunity that we use to break news. We break news in Nintendo Directs when we want. Historically we've broken news at San Diego Comic Con, at PAX Prime, at Gamescom in Europe. We're always looking for the right opportunity to share information about a particular game. Certainly for the holidays our lineup is set with Super Mario Party in October with Pokémon: Let's Go Pikachu and Let's Go Eevee in November right before Black Friday, and with Super Smash Bros. Ultimate on December 7. We believe that pacing is going to give us tremendous momentum during the holiday season.
On whether Nintendo gathers around as a company to watch Nintendo Directs when they are…
It's not that I don't want to see it again, but my role maybe is unique in that I am in the Direct. The scripting, and the positioning, I'm heavily involved in. The approval process I'm heavily involved in. By the time the public sees the Direct, I've seen it many, many times. Typically, I'm here on site, getting ready to present to retailers or part of our community. I like to watch it and to see the comments and the reaction. That to me is what is satisfying, and it helps us understand if what we tried to create is achieving its objective.
What's great about seeing it [at E3] is we had it on the big-screen at the booth. I could hear the gasp coming from a few hundred people here. To get those reactions live is really fulfilling.
On whether Nintendo has seen people buying one Switch system for each person in the household…
We have, and that's why here in the Americas, we sell a second dock. The progression we see in the U.S., you have larger homes with multiple TVs. Step one is for the consumer to realize I want to set this up on this TV and this TV, so I'll get a second dock. The next iteration is when the hardware is with a family member, and someone else wants to play the game, they're going to say to themselves "It's time for a second one."
On the future of the "Classic" brand…
We've said that, certainly for this year, that we would have the NES and SNES Classic available at retail. The NES Classic comes back this month. That's our focus right now. In terms of future Classic series, we'll have to set up a different interview to talk about that. Look, we know that our fans love our legacy content. Being in this business 40 years, we know we have a lot of content we can surprise our consumers with. We're aware of it, and stay tuned. Right now the focus is lets make sure that we give the consumer that wants NES Classic the chance to pick it up again. I believe we're also going to have a strong holiday with SNES Classic as well.
Leave a Reply