Super Smash Bros. Ultimate Direct live stream, live blog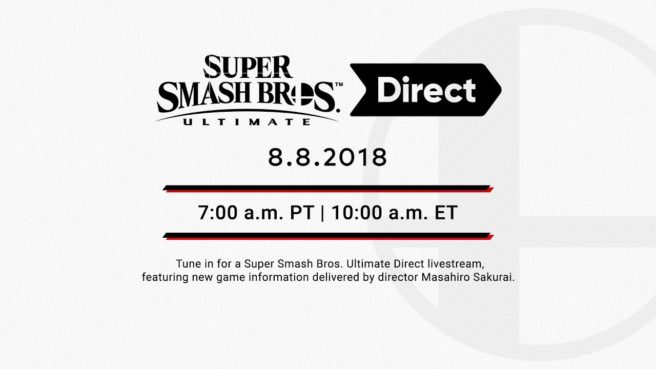 Today's Super Smash Bros. Ultimate Direct will kick off in a couple of hours from now. The presentation begins at 7 AM PT / 10 AM ET / 3 PM in the UK / 4 PM in Europe. Director Masahiro Sakurai will be hosting the proceedings.
You can watch the Smash Bros. Ultimate Direct as it happens below. We'll also have a live blog going past the break, which will be handled by our lovely video editor Eric. We'll keep our coverage going after the presentation ends.
Live stream
Live blog
New characters
Simon Belmont
Richter Belmont (Echo)
Simon
Axe, cross, holy hater, uppercut
Final Smash: Grand Cross
Simon's Stage: Dracula's Castle
Castle will have well known Castlevania monsters
34 Castlevania Tracks
Alucard assist trophy
Richter is Simon's Echo fighter
New Echo fighters
Dark Samus
Chrom
Stack Echo's for quick swapping
More coming later
New Stages
Pokemon Stadium
Garden of Hope
Brinstar Depths
Summit
Gamer
Unova Pokemon League
Magicant
New Donk City Hall
Final Destination?
103 Stages – They must be crazy
All available from the beginning
8 fighters for each level
Stages can morph into each other – you pick which 2
Music
Tracks organised by series
Sample tracks on the website
MORE THAN 800 TRACKS!
28 hours of music….
In handheld, you can play music while in sleep mode.
More Stuff
Pick rules, then stage, then fighter
Sudden death camera will slowly zoom
Chargeable Final Smash's are now an option – When gauge is full, use a weak Final Smash
Battle Modes
Squad Strike
Ultimate Cup Tourney
Smash Down
Training Mode has a exclusive stage with grid
Classic Mode
Items
Banana Gun
Killing Edge
Bomber
Death's Scythe
Staff
Ramblin' Evil Mushroom
Rage Blaster
New Pokemon
Alolan Exeggutor
Abra
Solgaleo
Lunala
Mimikyu
Pyukumuku
Vulpix
Alolan Vulpix
Marshadow
Ditto
Assist Trophies
Zero
Knuckles
Krystal
Klaptrap
Kapp'n
Chef Kawasaki
Grey Fox
Nikki
Shovel Knight
Moon (Majoras)
New Boss
Rathalos from Monster Hunter Series
Can be a boss
Or assist trophy
Main Menu
New look at the menu
Side menu
Secret menu not yet shown
One more thing…
WOW!
King K. ROOL!!! Comes aboard!
Fights DK
New art shown with all characters
Leave a Reply