To celebrate the milestone of 100 million Pokemon traded in the GTS, Pokemon X/Y players can now download the Fancy Pattern Vivillon.
Unsure about how to get that new Pokemon? Here are a few quick steps:
Connect your Nintendo 3DS system to the Internet.
Select Mystery Gift on the main menu.
Select Receive Gift, then Yes.
Select Get Via Internet, then Yes.
Watch as you receive Fancy Pattern Vivillon!
Speak to the delivery girl in any Pokémon Center to receive your Vivillon.
Be sure to save your game!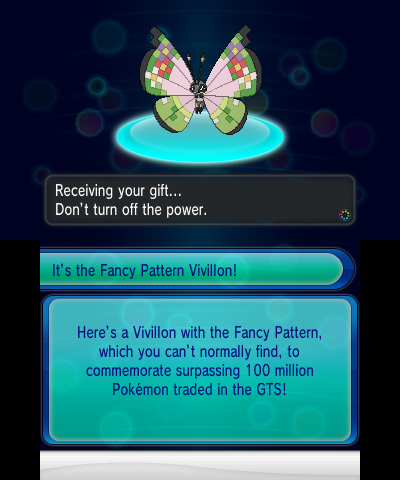 Pokemon X and Pokemon Y players can now download Fancy Pattern Vivillon. The special creature is being distributed to celebrate 100 million trades in the GTS, which happened yesterday. Fancy Pattern Vivillon can't be found under normal circumstances, so this is most definitely a unique promotion.
Currently, about 90 million Pokémon have been traded worldwide, and to celebrate the landmark of 100 million Pokémon trades via the Global Trade Station (GTS), a new Fancy Pattern Vivillon will become available to players.

Vivillon is a unique Pokémon in that the patterns and colours on its wings typically vary based on the real-world region in which a player lives. Because of this characteristic, players around the world have been exchanging Vivillon via the GTS to collect all of the regional patterns.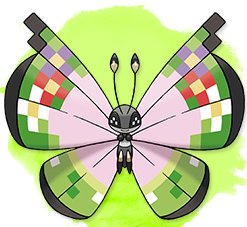 A special "Fancy Pattern" Vivillon distribution has been announced for Pokemon X/Y. This will take place once the GTS hits over 100 million Pokemon traded. Currently, the number is sitting at 85 million.
Pokemon X/Y's Vivillon distribution will be taking place worldwide, though the exact details are unknown. We should be hearing more the GTS reaches its milestone!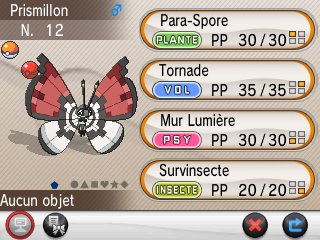 A Pokemon Center in Paris will temporarily open next month – between June 4th and June 21st. Those who visit the location will have an opportunity to download a unique Pokemon.
For the first time, the special Poke Ball-patterned Vivillon will be distributed. It comes in at level 12 and features the Stun Spore, Gust, Light Screen and Struggle Bug moves.
It's unclear if the event will be available outside of France at this time.
Pre-order Pokemon Omega Ruby
and Pokemon Alpha Sapphire
now.

Nintendo must sure like McDonalds. After teaming up with the fast food restaurant to bring Mario toys to Japan and the UK, Pokemon X/Y toys are now coming to the United States. This new Happy Meal licensing deal includes a card and one of 12 toys from a selection including Pikachu, Venusaur, Charizard, Blastoise, Mewtwo, Chespin, Fennekin, Froakie, Helioptile, Pancham, Xerneas, and Yveltal.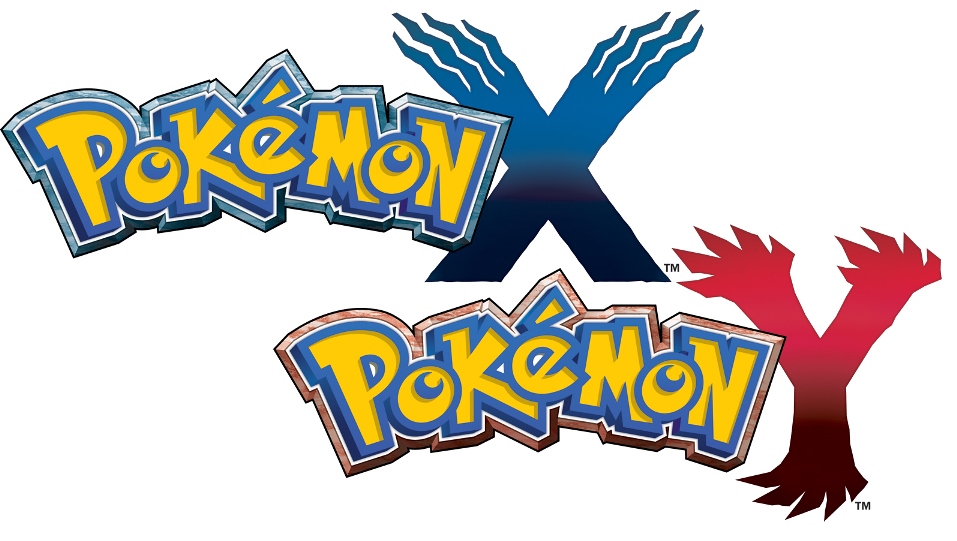 Pokemon X and Pokemon Y have sold over 12 million units since launch. Collectively, the two games are the fastest selling titles on 3DS.
A total of 245 million Pokemon games have been sold around the world.