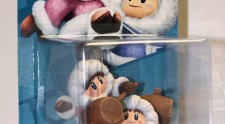 2 hours ago
By
Brian
(
@NE_Brian
)
0 Comments
Reddit user "mast3r_sword" has come up with an incredibly impressive custom amiibo. The Ice Climbers have been created from scratch – box and all.
mast3r_sword obtained a base model in 3D, did some retopology, and modeled/sculpted it until he managed to get the Ice Climbers in a pose inspired from Super Smash Bros. Brawl. Naturally, this original amiibo won't work in any game, though the base can be opened and a chip from another figure can be installed.
I continue to be amazed by the original amiibo creations people are coming up with. I know I could never make something like this!