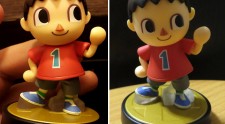 19 hours ago
By
Brian
(
@NE_Brian
)
11 Comments
Nintendo has started reprinting the Villager amiibo in Japan. I'm marking this as a rumor to be safe, but it's looking like a few, small changes were made to the figure.
As pointed out by My Amiibo News:
The original Villager's eyes appear more elongated and are placed evenly between the hairline and the nose. The reprint shows changes in the eye shape and placement. Its eyes look somewhat rounder and are placed lower on the face, hugging the nose a lot more.
How do you guys feel about the changes? Which version do you prefer?