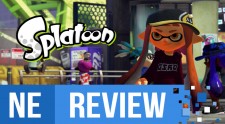 18 hours ago
By
Austin
(
@NE_Austin
)
9 Comments
Splatoon is officially launching in just a matter of minutes, so we're giving this one final bump!
---
Finally we've come upon the day when Splatoon reviews are allowed to be posted. Here's a 15 minute video with a whole lot of what I thought about the game; would you believe me if I said this was edited down from a thirty minute video? I could seriously make a 60 minute video about this game honestly. Maybe I will someday.
Our complete video review is below. Hit the break for the summary, recommendation, and rating.