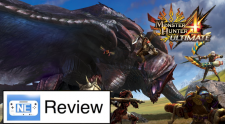 2 weeks ago
By
Austin
(
@NE_Austin
)
12 Comments
---
"Of course, I thanked my friend. Manners are the finest dessert, as we in Yukuko say."
System: Nintendo 3DS
Release Date: February 13th, 2015
Developer: Capcom
Publisher: Capcom
---
Author: Austin
Monster Hunter, from outside the cult of its supporters, looks awfully intimidating doesn't it? Just the phrases that come to mind when people bring it up– "gear grind", "brutally difficult", "extremely inaccessible", "clunky", "time sink"– don't exactly do the series any favors in the eyes of newcomers, so it hardly comes as a revelation that the appeal of its extremely nuanced and strategic real-time combat system has remained limited outside of Japan. Something about that country seems to give them a higher tolerance for this sort of thing.
Nevertheless, Capcom seems to be enchanted with the idea of Monster Hunter's ubiquity in the west, and so we've arrived on the doorstep of Monster Hunter 4's release on 3DS.
\\\
Perhaps the most important thing to understand about Monster Hunter 4 up front is that it exists unapologetically; it's easy to feel some sort of fundamental inspiration driving all of this game's decisions. From the clunky (though, the word "nuanced" truly does fit it more appropriately) controls in combat to the feline-laced aesthetic, this game knows what it wants to be and it does not sully itself with watered-down mechanics or simplify itself for the sake of more instant appeal. It's not for everyone, and it doesn't try to be.
That being said: Monster Hunter 4 Ultimate is easily as approachable as this idea has ever been.