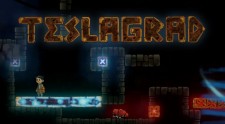 2 days ago
By
Vincent Ward
0 Comments
System: Nintendo Wii U
Release Date: September 11th, 2014
Developer: Rain Games
Publisher: Rain Games
---
Author: Vincent
"Magnetizing and satisfying"
In a market filled to the brim with 2D platformers, it's hard to stand out from the crowd; it seems as if, unless your character is sporting some overly familiar overalls and a fancy brown mustache, you'll never be noticed. Those odds didn't stop newly-made studio Rain Games from taking a shot in the dark with Teslagrad, a platformer that uses unique storytelling and gameplay to rise above the rest. But does this all blend together to create an experience worth checking out, or is it better left alone?
As soon as you start up the game, you're presented with the opening menu showing the main character's father carrying a baby walking through a dark town. Once you hit Start Game, it makes the seamless transition into gameplay where he hands off the baby to the mother. Time goes by and the town you live in becomes overrun, forcing your mother to let you out the back door as you take control over the now grown up young boy. You run through the town amidst a rainstorm as soldiers chase you down, and you climb atop buildings and through alleyways to escape, all leading up to the young protagonist taking shelter in an abandoned tower, which he then discovers has more than meets the eye.
Now, this isn't all spoon-fed to you with numerous boxes of texts or someone yelling in your ear telling you what the soldiers names are. The game instead chose to feature no text or full on voice acting throughout the five hour adventure. All you have is the ambient soundtrack and character grunts to accompany you throughout your journey as you have the world around you unfold and tell the story little by little.