Attack on Titan 2: Final Battle producer on his favorite additions, his dream anime, message to Nintendo fans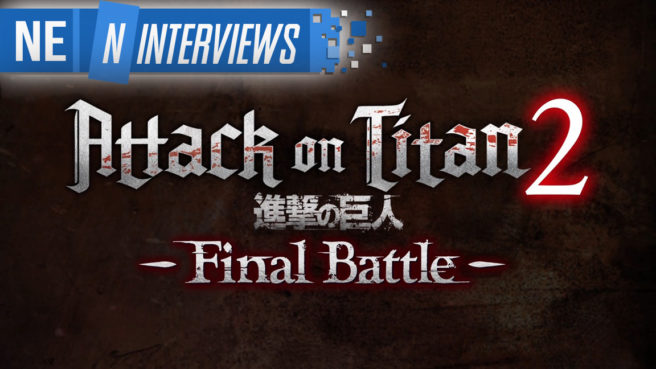 This past week, Koei Tecmo were kind enough to invite us to a pre-release event for Attack on Titan 2: Final Battle. In addition to going hands-on with the Switch build, we had a personal demonstration from Omega Force manager and Attack on Titan 2: Final Battle producer, Mr. Hideo Suzuki.
Mr. Suzuki answered our questions and shared a lot of new information about Final Battle with us. We decided to ask him a few personal questions, as well, including his dream anime IP to work on. Check below the break for his responses.
With all of the new content from season 3, story, weapons, battle modes and more, what are your favorite new additions in Final Battle?

Suzuki: That's hard to say… The Thunder Spears were a given. It's featured heavily throughout season 3, so we knew we were going to include it in the game. But I wanted to explore the potential in evolving the combat by creating something new—a new action system. So, one of the new features that I'm particularly proud of are the Firearms and the accompanying new combat system. We wanted to create something new for players who have played Attack on Titan 1 and 2, because they've just been using Blades the whole time. So creating a new combat style through Firearms seemed logical and that's what we really put our efforts into. I'm very happy with the way that it came out.

Considering you've worked on games in the Attack On Titan and One Piece series, I'd like to ask: if you had the chance to create a game from any anime series, what would be your dream anime?

Suzuki: Hmm, my dream anime… I've got to say, personally, I would really like to work on Dragon Ball. I'd really challenge myself to make something great.

In closing are there any comments you would like to say specifically to the Nintendo community who are fans of Omega Force's work?

Suzuki: This game covers the whole story of Attack on Titan from the beginning in season 1 all the way to the very end in season 3, so it goes without saying that this game is full of content. And since it covers the entire story, it's great for fans of Attack on Titan who want to relive the series. That said, it's also great for anime lovers who just have heard of Attack on Titan in passing or maybe they've been thinking about reading the manga or watching the anime, but they don't know the story yet; this game is a good entry point because it provides a very immersive experience of the world of Attack on Titan. There are many angles to this, so hope that all kinds of fans will give this game a shot.
Do you want to know what aspect of the story that Mr. Suzuki is most proud of? How many stages are in the new modes? Or how about gameplay methods that we didn't even know were in Final Battle? Then check out our previous post with more details from Mr. Suzuki, himself, as well as our hands-on impressions of the Switch build. You can also check out our direct-feed footage of the Switch version right here.
Leave a Reply