Wario Land Shake / Nintendo / July 24th / 5800YEN
– Feature anime cut scenes from Production I.G.
– Same screens from those in the Wario Land Shake thread
RIZ-ZOAWD(Or is it Resort? Whatever…)/ Winter / D3
– RPG?
– Developer: Media Vision (Wild Arms)
– Characters are controlled by a track ball on the DS touch screen.
Neon Genesis Evangelion Ayanami Ikusei Keikaku DS with Asuka Hokan Keikaku / Broccoli / Aug 28th / 5040YEN


Super Mario Stadium: Family Baseball (Wii, Nintendo): 7 / 7 / 7 / 8 – (29/40)
Spectral Force Genesis (NDS, Idea Factory): 6 / 6 / 6 / 6 – (24/40)
Ohimesama Debut (NDS, Cave): 7 / 7 / 6 / 6 – (26/40)
Watashi no Pony (NDS, Starfish): 5 / 6 / 4 / 5 – (20/40)
Super Robot Taisen A Portable (PSP, Banpresto): 8 / 7 / 7 / 8 – (30/40)
Narnia Kuni Monogatari Dai-2-Shou: Caspian Ouji no Tsunobue (Wii, Disney): 7 / 7 / 6 / 6 – (26/40)
Harukanaru Toki no Naka de 4 (Wii/PS2, Koei): 8 / 8 / 7 / 8 – (31/40)
FlatOut: Ultimate Carnage (Xbox 360, Empire): 7 / 7 / 7 / 6 – (27/40)


An official press release has been distributed regarding The Conduit. According to the release, the game will be launching in Q1 2009. It also seems that the game has a publisher, although this is not completely confirmed.
High Voltage Software's The Conduit is a stunning first-person action shooter that promises to provide some of the best visuals seen to date on Nintendo's Wii gaming console.

Using their proprietary Quantum 3 Game Engine technology, the team at High Voltage Software is fusing fast and fluid gameplay with an advanced set of visuals intended to squarely establish the Wii as a true next-generation gaming platform. The first-person shooter boasts a competitive online multiplayer component and a thrilling single-player campaign. Advanced graphical features include dynamic environment mapping, interactive water with real-time reflection, and four-stage texture composition including gloss, diffuse, and bump mapping.

"Too many Wii owners have been told that the Wii is a casual platform with no room for serious games or top-tier graphics," said Eric Nofsinger, Chief Creative Officer at High Voltage Software. "With The Conduit, we intend to prove that theory wrong by providing gamers with the kind of title they imagined back when the platform was first announced."




Spore Creatures (DS) – G
Bangai-O Spirits (DS) – PG
Monster Lab (Wii, DS) – G


"Honestly, I think the lack of AAA titles also has a lot to do with a lot of the 3rd parties simply being caught with their pants down. Triple A take a lot of time to develop; Many years in fact. For them to have been announced/released by now, it would have meant that they were in development/planning before/shortly after the Wii was released. However, nobody, besides Nintendo, expected the Wii sales to be so strong, and anyone who did should be buying lottery tickets.
However, the good news is, now that the industry has seen the rise of the Wii, I'm sure many plans and budgets have been shifted and adjusted, and triple A titles should be in their pipeline (though not ready to be announced). This means soon, you should be flooded with the titles from the franchises you're familiar with, and ones that aren't just spinoffs.
Have a little patience and faith in the little white console that could. I know I am. 'Lost'" – Community Specialist of Capcom Entertainment
There certainly is validity to these words. Twilight Princess alone took years to create and went through many tweaking/perfection processes. The same goes for Super Mario Galaxy and Metroid Prime 3. It definitely is likely that AAA titles are in development if you're a believer in this type of development process.


Sonic Unleashed is more than a few months away from releasing, but a game guide has already popped up. Giant online retailer Amazon has a listing for a Prime guide named "Sonic World Adventure: Prima Official Game Guide." A bit of research shows that on Prima's preview page for the strategy guide shows that Sonic World Adventures will be available for the Playstation 2, Playstation 3, XBox 360, and Nintendo Wii. Moreover, the guide will be launching right alongside the already planned November 4 video game release date. There's a pretty good chance that Sonic World Adventure is Sonic Unleashed, although it is possible that this was a mistake on the part of Prima.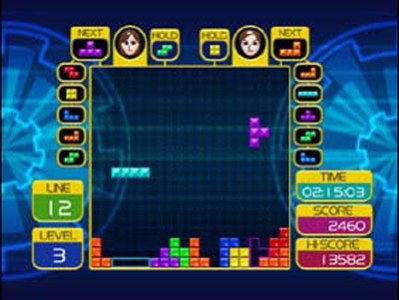 Tetris was originally scheduled to launch this July in Japan, but the game has been delayed. Tetris Party – as it is now called – will be launching at an unspecified date. Rumors for the game's delay include a chance that the game will support the Wii balance board.


Tom Clancy's H.A.W.X. has been rumored to be in development for the Wii for a considerable amount of time. No official announcement was ever made, but the speculation continued. H.A.W.X. does seem slightly possible to be releasing on the Wii at this point – an IGN listing was discovered for the title in addition to a recently added GameStop and GameFly retail listings. Most speculate that the game may be revealed at E3 for the Wii, although we're still far from an official confirmation.