1. Super Mario Kart
2. Tetris
3. Grand Theft Auto
4. Super Mario World
5. Zelda Ocarina of Time
6. Halo
7. Resident Evil IV
8. Final Fantasy XII
9. Street Fighter II
10. GoldenEye


'RACER' SERIES RACING TO A SHOP NEAR YOU

Karlstad, Sweden: Nordic Games Publishing AB today announces their second set of console titles, Kart Racer and Truck Racer, for the WiiTM, PlayStation®2 and PC. Both titles will launch across EMEA on the 24th April 2009.

Kart Racer is a fast paced game that really hones in your close proximity racing skills, and Truck Racer is all about muscle power versus smaller more nimble utilitarian vehicles. The two genres were chosen to appeal to a wider gaming audience, and also mark the beginning of a range of Racer titles.


New addition to the WiiTM exclusive Play ZoneTM label brings popular local sports to play with family and friends

LONDON, UK – February 26th, 2009 – Today Ubisoft announced the launch, in EMEA territories only, of World Sports Party, a new title in the WiiTM exclusive Play Zone label. World Sports Party will hit shelves on March 27th, 2009. Like all Play Zone titles, World Sports Party will provide immediate entertainment & recreation thanks to original and numerous mini-games that can be shared by all family members and friends.

Play sports from all over the world!

World Sports Party invites family and friends in a journey to an exotic 5-star modern island resort, where all players will enjoy 8 original sports that can be played by up to 4 players at a time. For the first time, a video-game includes a collection of from around the globe, each of them with a special feel and all of them easy to pick up and play thanks to the intuitive Wii RemoteTM gestures




New Wii MotionPlus Compatible Products Launching In June
GUILDFORD, UK. – Feb. 26, 2009 – Electronic Arts Inc. (NASDAQ: ERTS) today announced that Tiger Woods PGA TOUR® 10 and EA SPORTS™ Grand Slam® Tennis will be the first two products from the EA SPORTS™ label that utilize the functionality of the Wii MotionPlus™. EA SPORTS has at least five products, including EA SPORTS Active in May, in development that will launch before the end of 2009 designed specifically for the Wii™.

"On the Wii, Tiger Woods PGA TOUR 10 and EA SPORTS Grand Slam Tennis bring the authentic motion and excitement of championship golf and tennis to life for fans of all ages and skill levels," said Peter Moore, President, EA SPORTS. "With the new Wii MotionPlus, slicing a winner on Centre Court at Wimbledon or dropping an 8 iron pin high on No. 17 at TPC Sawgrass have never felt better. We couldn't be more excited about the dynamic new EA SPORTS experiences coming this year to the Wii."


Nintendo's Video Game Lineup Demonstrates Gaming Diversity
New Games Announced for Nintendo Systems

NOTE: Multimedia available below

REDMOND, Wash.–(BUSINESS WIRE)– While everyone is still buzzing about the upcoming April 5 launch of the Nintendo DSi™ system, video game fans will have plenty of great games and experiences to keep them busy. Nintendo has an extensive, diverse library of about 120 games on the way for both the Wii™ and Nintendo DS™ systems. Upcoming Nintendo-published video games for Wii include:

Excitebots™: Trick Racing has elements that make it one of the more unique racing games on the market. It launches April 20 and lets everyone in the family use the Wii Wheel™ accessory in unique and changing environments, play fun minigames and perform crazy tricks in a game that builds on the Excitebike™ and Excite Truck™ franchises.


Climax's "stunning and refreshing take on the horror genre" may very well be a Silent Hill game for Wii. However, instead of introducing an entirely new title in the series, the game may actually be a remake of Silent Hill 1. VG247 reports that motion controls will be used for torch functions. Konami, who is involved in the project, has declined to comment.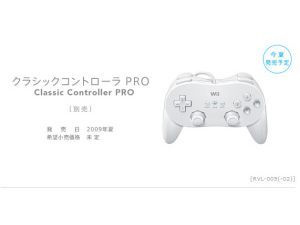 Nintendo will be releasing the Classic Controller Pro in Japan this summer in Japan, but there are no plans to bring the product to Europe. The controller differs slightly than a regular Classic Controller in shape and has a few more shoulder buttons. Though a European release has been ruled out for now, it's unclear if the Classic Controller Pro will reach North America.


01. [360] Star Ocean 4: The Last Hope (Square Enix) 162,000 / NEW
02. [NDS] Mario & Luigi RPG 3 (Nintendo) 62,000 / 255,000
03. [PSP] Idolmaster SP: Perfect Sun (Namco Bandai) 46,000 / NEW
04. [PSP] Idolmaster SP: Missing Moon (Namco Bandai) 39,000 / NEW
05. [PSP] Idolmaster SP: Wandering Star (Namco Bandai) 35,000 / NEW
06. [NDS] Shining Force Feather (SEGA) 30,000 / NEW
07. [PSP] Monster Hunter Portable 2nd G (PSP the Best) (Capcom) 18,000 / 435,000 *
08. [PS2] Sacred Blaze (Flight Plan) 17,000 / NEW
09. [PS3] Street Fighter IV (Capcom) 17,000 / 103,000
10. [PS3] Demon's Souls (SCE) 15,000 / 78,000