Cammie Dunaway, Nintendo of America's executive vice president of Sales & Marketing, shows off the Nintendo DSi XL at Nintendo's Q1 Media Summit. The latest iteration of the record-breaking Nintendo DS is set to launch in the U.S. on March 28, 2010.

During Nintendo's Q1 Media Summit, an attendee strikes a pose to create a character for Photo Dojo, a downloadable game for Nintendo DSiWare that literally puts players right into the action.

Attendees at Nintendo's Q1 Media Summit enjoy demonstrations of some of the Wii system's most highly-anticipated titles such as Super Meat Boy by Team Meat for WiiWare.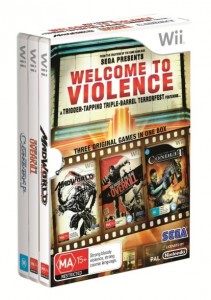 24th February 2010 – This time last year, the crazy kids at SEGA Australia pulled out a whiteboard, wrote some words on it, head-butted some brick walls, wrote some more words… and came up with The Bang Bang Box!!! To mark the anniversary of this epic day, those same special minds have created a new box-o-fun. A trigger-tapping triple-barrel terrorfest, we like to call WELCOME TO VIOLENCE. This pack features three of the most controversial adult games available on the Wii – Madworld, The Conduit and The House of the Dead: OVERKILL – for only $109.95!! Available on the 11th March 2010.

WELCOME TO VIOLENCE details:


Monster Hunter Tri – April 23
WarioWare: D.I.Y. (and Showcase) – April 30
Sin and Punishment: Successor of the Skies – May 7
Super Mario Galaxy 2 – June 11
Photo Dojo – Spring 2010
Dragon Quest IX: Sentinels of the Starry Sky – Summer 2010
FlingSmash – Summer 2010
Metroid: Other M – Q3 2010


– Yoshi can eat enemies, flutterjump, eat blimp berries to inflate/float (hold A button), Dash Peppers make him go faster
– Side-challenges for more stars
– Game has some throwback music from games like Super Mario World
– Again, game will have orchestrated music
– Sky Station Galaxy, Spin-Dig Galaxy, Hightail Falls Galaxy, Tall Trunk Galaxy, Upside Dizzy Galaxy, Bowser Jr's Fiery Flotilla, Supermassive Galaxy, Bowser Jr.'s Fearsome Fleet, and Flip-Swap Galaxy confirmed
– A lot of earthy backdrops
– Huge enemies in Supermassive Galaxy
– Flip-Swap Galaxy has a timed purple-coined challenge
– 60 FPS


– Fast/action-packed game
– Has exploration
– Long, pre-rendered cinematic at the beginning, shows Samus grow from a baby to Samus
– Shows battle with Mother Brain from end of Super Metroid\
– Hold Wiimote sideways, move Samus with d-pad
– 2D angle with 3D levels and polygons
– Samus can run sideways
– 1 button to shoot beam, hold it down for a charge attack
– No real lock-on in third-person mode, but auto-targets closest enemy
– 2 button for jumping, A button for morph ball, lay bombs with 1 in morph ball mode
– Samus can lay 4-5 bombs circling her perimeter
– Can dive out of the way from a projectile wit d-pad
– Point Wiimote at screen any time to go to first-person
– Can only shoot in first-person, can't move
– Press A to shoot, B to look around
– Advanced lighting system
– Samus can kick-climb to the top of slim shafts with the 2 button
– Can collect energy/missile tank upgrades


01. [PS3] Resident Evil 5: Gold Edition – 143,000 / NEW
02. [PSP] God Eater – 64,000 / 470,000
03. [WII] New Super Mario Bros. Wii – 44,000 / 3,366,000
04. [DS] Dragon Quest VI – 41,000 / 1,217,000
05. [DS] Tomodachi Collection – 31,000 / 2,849,000
06. [PS3] Heavy Rain – 27,000 / NEW
07. [WII] Wii Fit Plus – 26,000 / 1,664,000
08. [DS] Yu-Gi-Oh World Championship 2010 Reverse of Arcadia – 24,000 / NEW
09. [PS3] Star Ocean: The Last Hope – 15,000 / 113,000
10. [WII] Wii Sports Resort – 11,000 / 1,760,000
11. [PSP] Monster Hunter Portable 2nd G (PSP the Best)
12. [DS] Quiz Magic Academy DS: Futatsu no Jikuu Koku
13. [DS] The Prince of Tennis: Motto Gakuensai no Oujisama -More Sweet Edition-
14. [PS3] Dante's Inferno
15. [PS3] Sacred 2
16. [DS] The Legend of Zelda: Spirit Tracks
17. [PS3] Shin Sangoku Musou Online: Kamishou Ranbu
18. [PS3] End of Eternity
19. [DS] Pokemon HeartGold/SoulSilver
20. [DS] New Super Mario Bros.
21. [DS] Inazuma Eleven 2
22. [WII] Zangeki no Reginleiv
23. [PSP] Pop'n Music Portable
24. [DS] Nodame Cantabile: Tanoshii Ongaku no Jikan Desu
25. [DS] Dragon Ball DS 2
26. [PSP] Classic Dungeon: Fuyoku no Masoujin
27. [WII] Mario Kart Wii
28. [DS] San Goku Shi DS 3
29. [PSP] Hyakumanton no Bara Bara
30. [PSP] SOCOM: U.S. NAVY SEALs Portable


I have to say, today was an extremely crazy day. I woke up at about 8 AM, posted a few things, and then prepared myself for Nintendo's media summit. Since the conference started, I've been at the computer for about ten hours straight. I think my brain is going to melt soon! I honestly don't remember posting as much as I have today. Well, except for E3. Anyway, since I don't always get a chance to share my thoughts on certain topics, I thought I might as well start now.
I think most Nintendo fans would agree that Nintendo really delivered the goods today. Usually, Nintendo saves most of their announcements for the big stage like E3, but we received a lot of worthwhile news over the past few hours. Nintendo announced release dates for Super Mario Galaxy 2 and Metroid: Other M, revealed a slew of WiiWare and DSiWare titles, and even had some unlikely products to promote such as FlingSmash. Not to mention that tons of screenshots and trailers were released for Nintendo's first-half lineup.
Personally, the biggest surprises at the event were the release dates for Other M and Galaxy 2. Based on the news we heard yesterday, it seemed as though we would be getting Galaxy 2 in June and then Other M in August. As we know now, however, that's not the case. I really wasn't expecting both titles so soon, but I'm definitely glad they're coming.
So now, of course, Nintendo's next big event will be E3. I don't believe Satoru Iwata has a keynote GDC, although Yoshio Sakamoto will have a lecture. Zelda Wii will be at E3 and you can definitely expect the Vitality Sensor to have a huge presence as well. I do wonder, though, what else will Nintendo have in store? Could Xenoblade be released this year? And what about The Last Story? Will Nintendo show some of their games for 2011? Or maybe the company will show the DS' successor for the first time? As you can see, there are some interesting things to consider.
Just so you know, Nintendo's embargo will be lifted at 9 PM PST, so previews of titles like Super Mario Galaxy 2 and Metroid: Other M will be posted on a bunch of sites. Right now, I'm just going to soak in all of the wonderful news we had today. Although, I'm curious – What did you guys think about the event?


This is the only bit of news I forgot to share with you guys earlier today. With all of the craziness that happened, I suppose it just slipped my mind.
In any case, new prizes for Club Nintendo are on the way. Mario posters, Game & Watch Collection 2, and Grill-Off Ultra Hand will be released on the service. As you'd probably expect, the last two prizes will be for the DS and Wii respectively. Nintendo has yet to reveal when the prizes will go live, but look out for them in the coming weeks.




Picross 3D™ is the sequel to the popular Picross DS™ puzzle game. The original game was a number-based grid puzzle that challenged players to reveal a hidden picture. Picross 3D moves the action into three dimensions. Picross 3D blends the logical challenge of a sudoku puzzle with the excitement of discovering the hidden images within.