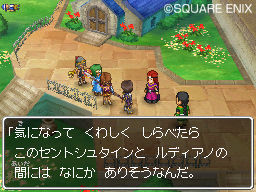 – First quest is Moya Moya Yuurei Life (130)
– Go to the hill west of Kubiana Castle
– Need to finish the game first
– Have to take magic flying train
– Second quest is Rudiano wo Kirei ni (131)
– Story quest
– Go to Shutein
– Need to finish the game and quest 129
– Builds of the sub story from quest 127
– Talk to Melissa to start the quest
– Note: If you connect online, Kukule from DQVIII will appear in Rikka's Inn, can obtain goods


WARNER BROS. INTERACTIVE ENTERTAINMENT, TT GAMES, THE LEGO GROUP, HARMONIX AND MTV GAMES REVEAL LEGO® ROCK BANDTM FOR NINTENDO DSTM DETAILS

Invite Friends to Rock On-the-Go and Leave the Peripherals at Home!

London, UK, Aug. 20, 2009 – Warner Bros. Interactive Entertainment, TT Games, the LEGO Group, Harmonix and MTV Games, a part of Viacom's MTV Networks (NYSE: VIA and VIA.B), are building an all-new handheld music gaming experience that lets fans of all ages "Build a Band and Rock the Universe" wherever and whenever they want with LEGO® Rock Band™ for Nintendo DS™. Published by Warner Bros. Interactive Entertainment, LEGO Rock Band for DS combines the LEGO style of humour with Rock Band gameplay to introduce a portable Rock Band experience that anyone can play without the need for peripherals to be purchased. The game also includes a multiplayer feature that allows up to four players to participate in local wireless multiplayer gameplay.

LEGO Rock Band for DS is developed by Backbone Entertainment, a Foundation 9 Entertainment studio, and will be compatible with the Nintendo DS, Nintendo DS Lite and Nintendo DSi™. LEGO Rock Band for Xbox 360® video game and entertainment system from Microsoft, PLAYSTATION®3 computer entertainment system and Wii™ system is in development by TT Games in partnership with Harmonix. All versions are scheduled for release holiday 2009.


Soul Calibur: Broken Destiny (PSP) – 7/8/8/8
Nanashi no Game Me (DS) – 7/7/8/8
F.E.A.R. 2: Project Origin (PS3/360) – 8/6/7/8
SupaRobo Gakuen (DS) – 7/7/7/7
Dream Club (360) – 6/6/6/6
Gendai Daisenryaku: Isshoku Sokuhatsu – Gunji Balance Houkai (PSP) – 6/5/5/5
Gendai Daisenryaku: Isshoku Sokuhatsu – Gunji Balance Houkai (PS2) – 5/4/4/4


There's no hiding the fact that Activision is bringing a two year old Call of Duty game to Wii. However, there is apparently still a chance that Modern Warfare 2 could hit Nintendo's console. Speaking at GamesCom, Activision stated that, if there are positive sales for Call of Duty 4, then a Wii version of Modern Warfare 2 may happen.
You may remember that Activision's last Call of Duty game (World at War), started off slow in the market but has picked up since then and has gone on to sell rather well. The only question is, will Wii owners have to wait until November 2011 to play Modern Warfare 2 if Call of Duty 4 performs decently?




01./03. [NDS] Dragon Quest IX: Defenders of the Starry Sky (Square Enix) – 127,000 / 3,644,000 (-6%)
02./05. [NDS] Tomodachi Collection (Friend Collection) (Nintendo) – 126,000 / 728,000 (+38%)
03./06. [WII] Wii Sports Resort (Nintendo) – 105,000 / 1,006,000 (+44%)
04./02. [WII] Monster Hunter 3 (Capcom) – 93,000 / 750,000 (-32%)
05./01. [PS2] SD Gundam G Generation Wars (Namco Bandai) – 57,000 / 233,000 (-67%)
06./04. [PSP] Tales of Versus (Namco Bandai) – 35,000 / 168,000 (-74%)
07./13. [NDS] Puyo Puyo 7 (SEGA) – 29,000 / 109,000
08./14. [PSP] Monster Hunter Portable 2 G (BEST) (Capcom) – 27,000 / 889,000
09./09. [NDS] Color Changing Tingle's Balloon Trip of Love (Nintendo) – 18,000 / 51,000 (-46%)
10./17. [NDS] Penguin no Mondai X: Tenkuu no 7 Senshi (A Penguin's Troubles X: 7 Warriors of the Sky) (Konami) – 18,000 / 90,000




"This is our big last hurrah for DS games. That's it for original stuff. We're now going to move on to consoles in the next year. We might still do DS; I'm not saying we're not going to [develop DS games]. But our focus is definitely going to be on console." – 5TH Cell cofounder and creative director Jeremiah Slaczka
Mr. Slaczka also commented on how he would turn Scribblenauts into a franchise…
"[There are] all kinds of cool things we could do with it…We're definitely keeping it in-house for a while. I really like Scribblenauts and think there's a lot of potential there, so we'll see what happens."
I do hope that 5th Cell will produce more DS titles sometime in the future. The company has provided the handheld with some fantastic games in Drawn to Life, Lock's Quest, and the soon-to-be-released Scribblenauts.