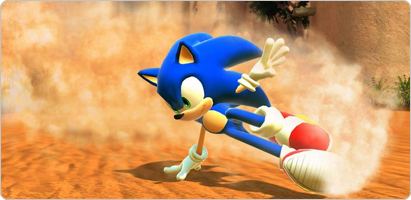 The best and most recent Sonic titles have been found on the Nintendo DS. Sonic Rush and Sonic Rush Adventure were the closest games that returned Sonic to his roots and are ultimately two of the more entertaining games on the DS. With that being said, the Sonic games on console have been notoriously awful throughout the years. Sonic Unleashed may be changing this, however. The latest rumor floating around about the game is that Sonic Unleashed will use the same game system/engine as the Sonic Rush titles do. If this is to be believed, Sonic Rush might possibly turn out to be one of the most surprisingly enjoyable games of the year.


NEW YORK, March 25 /PRNewswire/ — 1UP Network, the recognized leader in print and online videogame content, announced today that celebrated author, Dr. Oren Harari, will be headlining a stellar lineup of speakers at the 11th Annual Electronic Gaming Summit. The Electronic Gaming Summit, held May 19-21, 2008 in Napa, Calif., is the only event of its kind to provide a platform for leading videogame industry influencers and top-level executives to learn, network, and exchange ideas about the gaming culture
and its future.The 2008 Electronic Gaming Summit boasts presentations from an array of elite videogame industry and non-industry leaders, who through their vast knowledge, experiences and business visions, will share invaluable insight on hot-button gaming-related issues and trends. In addition to Dr. Harari, author of 'Break from the Pack: How to Compete in a Copycat Economy,' Summit speakers include such key business players as Cammie Dunaway, executive vice president of sales and marketing, Nintendo of America, Inc.; Jeff Bell, corporate vice president of global marketing, Interactive Entertainment Business, Microsoft Corp.; Peter Moore, president of EA Sports; Michael Pachter, managing director, research, Wedbush Morgan Securities; Jason Holtman, director of business development, Valve Software; Beth Simone-Noveck, professor of law, director, Institute for Information Law and Policy, Democracy Design Workshop; Tanya Giles, senior vice president, research and planning, MTV Networks Entertainment Group;
and a panel of prominent journalists that cover the gaming industry including N'Gai Croal, Newsweek, Daniel Sieberg, CBS News, Geoff Keighley, Spike TV, and Brian Crecente, Kotaku.com.
"From the inception of the Electronic Gaming Summit, this event has been the gaming industry touchstone for uncovering key trends and generating forward thinking," states Jason Young, CEO, Ziff Davis Media. "This year's diverse lineup of speakers truly continues the prestigious reputation of this event. Through their varied backgrounds and specialties, their presentations will no doubt enlighten minds, open important dialogues within the industry, and cultivate new ideas. I can't wait to hear what
this great group of minds has to say!"

The theme of this year's Electronic Gaming Summit is 1:1, exemplifying what the focus is of this unique event, as it is defined in many different ways — the meeting of individuals face to face, the opportunity to have direct, focused communication, and the current industry genesis as the birth of the next-generation consoles translates into continuous growth and opportunities.


Sigma Harmonics (DS)
– 60% complete
– Hiroki Chiba – director (DoC: FFVII)
– Yusaku Nakaaki – character designs (DoC FFVII's subcharcter and mechanics designer)
– Kitase – producer
– Adventure RPG
– hold the DS book-style
– Persona 4-style story
– murder/mystery story
– RPG elements (level up by experience gained from battles, etc)
– Divided to chapters, in every chapter a new murder/accident/mystery happens
Reviews
?????Umihara Kawase
?????SuperLite 2500 Chotto-Aima no Colpile DS
?????Detective Conan: Tantei Ryoku Trainer
Release dates
Wii:
Tales of Symphonia: Dawn of the New World – June 26th
DS:
Sigma Harmonics – Summer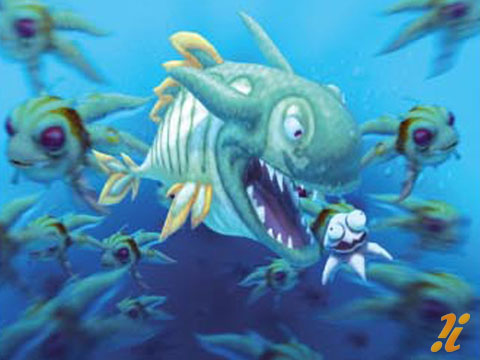 – multiple lakes
– each lake contains different fish
– catch fish to sell at the 'corner fishmonger' who will sell you new hooks, lures and more in return
– story mode: collect fragments of a statue that will awaken a god. There will be an overall boss as well.
– 4 player minigames included
– no release date, price


Some file sizes:
Star Soldier R – 141 blocks
Final Fantasy Crystal Chronicles: My Life As a King – 287 blocks
Saku Saku Animal Panic – 301 blocks
Video:
– Final Fantasy on WiiWare will have downloadable content, and displays the Pay to Play logo in the Wii Shop Channel.


Rock Band
– Coming out in June, 63 songs (5 exclusive), offline multiplayer, in stereo
– Missing important features – downloadable content, online – yet, still costs the same
– Basically a port of PS2 version
– Rushing the game
WiiWare
– Launching in Japan tomorrow
– Videos, interface, etc. will be available
Final Okami version in office
– 16 X 9 mode is perfect
– Runs at 30 FPS, sometimes dips
– Good, not better than Twilight Princess
– Better looking on Wii than on PS2
We Ski
– Uses Wii Balance board – go down slopes
– Looks slick (Matt and Bozon were surprised), but not dazzling
We Love Golf!
– Matt excited, videos have been posted
– Looks solid
– Team previously has developed Mario Golf games
– Hasn't sold well in Japan, Matt wants people to support it in America
Mario Kart
(Notes below are about local play – Bozon and Matt can't talk about online)
– Grand Prix – one player only
– Battle mode – up to 4 players, must use teams – free for all gone
– Balloon Fight, Coin Runners
– You can come back in Balloon Fight when you lose all of your balloons – scoreboard utilized for the mode
– Timed 3 minutes each
– Coin Runners: lose all of your coins when hit, also 3 timed 3 minutes
– Reviews that are out that haven't been fully tested – can't talk about online in reviews
Sega Superstars Tennis
– Not as good as it should have been – Matt
– No online, looks blurry
– Skycrawlers coming out for Wii
– Blast Works looking impressive – gameplay is really at level editor
Reader Questions
– Sonic Unleashed won't come to Wii – Matt thinks it looks too nice, Bozon thinks it actually looks good
– Nintendo is trying to attract casual gamers with Mario Kart Wii
– Bozon doesn't think Guitar from Guitar Hero will be compatible with Rock Band
– Letter-grade system, 5-star system good review score systems
– Some sports games (ex: Madden – off of the field, hockey) would benefit from PES system
– Voice chat plans up in the air, won't depend on Pay to Play – may follow DS model
– The IGN office has already had a Brawl tournament
– Is Mario Kart Wii a must-buy? Matt:"Eh…" – Will depend on online functionality – Bozon thinks DS version is better
– Matt cannot confirm/deny Factor 5 Kid Icarus rumor
– Mother 3 won't be brought to America
– Matt hasn't seen Kid Icarus in action, "developer is pretty damn good"
– Fight Night on Wii has potential
– Recent Capcom announcements: Matt hopes to see new IPs
– Sonic and the Secret Rings improvements: Speed, random walls popping up should be removed, more loop moments/shooting Sonic in air
– Pay to Play: Will apply to some downloadable content (ex: WiiWare games)
– Mario Kart release date was positioned to counter GTA4 a bit, but GTA will outsell it
– Favorite Wii titles that nobody has played – Matt: Medal of Honor Heroes 2, Zack and Wiki , Bozon: Scarface, Godfather
– Other than harddrive, voice chat, Matt would like to see "graphics," more horsepower
– Bozon really excited about Target Terror (joke)
– Nintendo might do downloadable content for Animal Crossing on Wii, won't be MMORPG
– There's a chance Command and Conquerer could come out on DS and Wii (speculation)
– No MegaMan on Wii yet, Bozon hopes to see it on Virtual Console
– Wii Music may have a peripheral, but Matt doesn't know yet
– Matt will ask Camelot questions about Mario Golf
– Sonic Unleashed HD screenshots on Wii story going around is a lie
– Soma Bringer might be localized, Matt and Bozon love the game


Okami (Wii) 9.5
SNK Arcade Classics Vol 1 (Wii) 9.0
Super Smash Bros Brawl (Wii) 10
Castle of Shikigami III (Wii) 7.0
WWII Aces (Wii) 2.0
House of the Dead 2 & 3 Return (Wii) 7.0
ObsCure: The Aftermath (Wii) 7.5
Sega Superstars Tennis (360, PS3, Wii, PS2) 8.5
Ninja Gaiden Dragon Sword (NDS) 9.5
Rondo of Swords (NDS) 8.0
Final Fantasy: Ring of Fates (NDS) 8.0


Cambridge, MA – March 24, 2007– Harmonix, the leading developer of music-based games, and MTV Games, a division of MTV Networks, which is a division of Viacom (NYSE: VIA, VIA.B), along with distribution partner Electronic Arts, Inc. (NASDAQ: ERTS), today announced plans to release the award-winning music video game Rock Band on the Wii™ home video game system from Nintendo in the U.S. and Canada on June 22, 2008 for the suggested retail price of $169.99.

Rock Band for Wii will be released as a Special Edition bundle including the software, drums, microphone and a wireless guitar. Stand alone instruments will also be available on June 22nd for people who want to build their band one instrument at a time or want to play the drum versus drum game mode. The game will feature 63 songs including five bonus songs for Wii gamers to enjoy.

"The Wii's success among casual and core gamers of all ages makes it an ideal match for the cross-generational appeal of the music featured in Rock Band," says Bob Picunko, Vice President of Electronic Games and Interactive Products, MTV

"The social interaction and addictive nature of the Rock Band experience is a perfect fit for the Wii and will undoubtedly be fun for the entire family," says Steve Singer, licensing VP from Nintendo.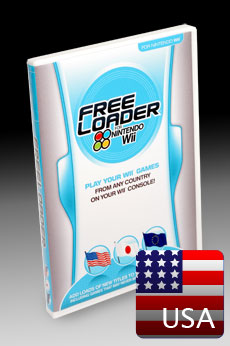 Owners of the Wii FreeLoader disc, a device that enables users to play games from other territories that are region-coded, began to panic as a few websites had claimed than a new North American Wii update affected its performance. However, contradictory reports have now began to flood in. There is reason to believe that the newest update will not affect the Wii FreeLoader in the slightest, and the whole commotion may have been caused as a result of an early April Fool's joke.