Over the past few years, there has been a long running debate amongst Zelda fans. There are some who argue that the series needs to receive major changes, while others believe that Zelda games should pretty much follow the same formula. This is something which was brought up in an in interview in the latest edition of Nintendo Power. Shigeru Miyamoto addressed how different Zelda Wii will be compared to previous titles in the franchise. Miyamoto said, "I don't think it's going to be that radically different. So, it looks like some fans will have to wait until the next Zelda title releases before any big changes are made. We'll be posting more tidbits from the interview over the coming days.


DSiWare
1 (1) – Nintendo DSi Browser
2 (2) – Mario vs. Donkey Kong: Minis March Again!
3 (3) – Paper Airplane Chase
4 (5) – Bird & Beans
5 (13) – Art Style: Boxlife
6 (4) – Mario Clock
7 (7) – Mario Calculator
8 (6) – WarioWare: Snapped!
9 (8) – Dr. Mario Express
10 (11) – Master of Illusion Express: Deep Psyche
11 (9) – Photo Clock
12 (10) – American Popstar: Road to Celebrity
13 (14) – Real Soccer 2009
14 (12) – Mighty Flip Champs!
15 (16) – Clubhouse Games Express: Card Classics
16 (17) – Master of Illusion Express: Funny Face
17 (18) – Brain Age Express: Math
18 (15) – Art Style: PiCTOBiTS
19 (19) – Mixed Messages
20 (20) – Master of Illusion Express: Shuffle Games
WiiWare
1 (1) – Final Fantasy IV: The After Years
2 (2) – Texas Hold'em Tournament
3 (3) – My Aquarium
4 (4) – World of Goo
5 (6) – Tetris Party
6 (7) – My Pokemon Ranch
7 (N/A) – Family Mini Golf
8 (5) – Sword & Soldiers
9 (9) – Dr. Mario Online Rx
10 (10) – Defend your Castle
11 (11) – Eduardo the Samurai Toaster
12 (8) – Bubble Bobble Plus!
13 (12) – Onslaught
14 (13) – CueSports – Pool Revolution
15 (14) – Fun! Fun! Minigolf
16 (N) – Water Warfare
17 (17) – Bomberman Blast
18 (15) – Brain Challenge
19 (16) – Sandy Beach
20 (19) – Mega Man 9
VC
1 (1) – Super Mario Bros. 3
2 (2) – Super Mario Bros.
3 (3) – The Legend of Zelda: Majora's Mask
4 (4) – Super Mario World
5 (5) – Punch-Out!!
6 (6) – Super Mario Bros. 2
7 (7) – Super Mario 64
8 (8) – The Legend of Zelda: Ocarina of Time
9 (9) – The Legend of Zelda
10 (10) – Mario Kart 64
11 (11) – Pac-Man
12 (12) – Donkey Kong Country
13 (13) – Super Mario RPG: Legend of the Seven Stars
14 (16) – Donkey Kong
15 (14) – Paper Mario
16 (15) – The Legend of Zelda: A Link to the Past
17 (17) – Sonic the Hedgehog 2
18 (19) – Galaga
19 (18) – Excitebike
20 (20) – Super Punch-Out!!


Thanks to _Contra_ for the news tip!


This quote comes from a Nintendo Channel E3 interview with Tom Hulett, producer on Silent Hill: Shattered Memories…

"Nothing's been removed from the game to fit into a rating. It's Silent Hill, it's a scary franchise, it's supposed to scare you. I know there are certain things you expect from a Silent Hill title. This game has all of that. We're big fans. We expect the same thing, so we've worked hard to put it all into this game."
A lot of developers are remaining true to their visions, even when it comes to creating mature titles for Wii. Just because it's on a slightly more casual system doesn't mean the team will be holding back.


– The town gate, where you choose a server based on what level of experience you are and what it is you want to do (for example, recruit people for a quest). The gate's also home to Loklak's information desk, helpfully telling you about special shop sales and special limited-time events.
– The main square, where you trade items, buy tools/materials, and combine purchased or found materials together to make new things. There's also an "interior workshop," an outdoor stand that creates furniture for your guest house (more on that below) if you bring the owner the right items.
– The tavern, where you pick up quests and eat food to power up your hunter before hitting the road. The bar's also home to the town colosseum, where tournaments are occasionally held.
– The lodging row, where the guest houses are. The size of your guest house depends entirely on your hunter's rank; the better you get, the more luxurious it becomes. You can also invite friends to your place to hang out if you like.
– The workshop, where you buy and upgrade/modify your weapons.


505 Games Announces Global Alliance with Paramount Digital Entertainment to Develop A Video Game Based on the Iconic "Grease" Film
LOS ANGELES – July 1st 2009 – 505 Games today announced it has secured the global publishing rights for a video game based on the original high school musical, Grease. Working in collaboration with Paramount Digital Entertainment, 505 Games will oversee and publish a Grease video game for the Nintendo Wii™ and Nintendo DS™.

The Grease video game will allow players to sing and dance alongside Danny, Sandy, The Pink Ladies and the T-Birds. The game will take full advantage of the Nintendo Wii's motion-sensing controls and microphone, and the DS's touch screen to create exciting gameplay for casual and family gamers eager to experience Grease in a new medium.




– Coming out in 2009
– No announcement for North America yet
– Hero is able to use magical belt
– Belt allows you to transform into monsters you collect
– Conversing with people in animal form will influence how they respond to you
– Most of the games takes place in a big tree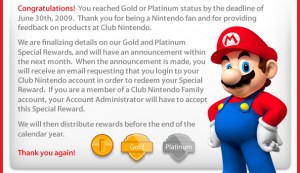 You should be receiving one of these emails shortly if you've reached Platinum or Gold status, if you haven't already. Also, remember that Nintendo has reset the status of Club Nintendo members today.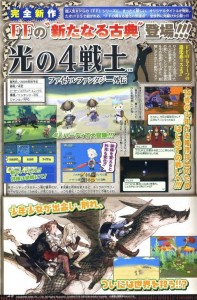 As we previously mentioned, this is Hikari no Yon Senshi: Final Fantasy Gaiden (Four Warriors of Light: Final Fantasy Gaiden) for the Nintendo DS.