News
Castlevania: Order of Ecclesia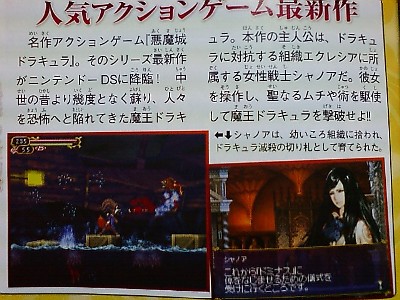 – That's not the JP title but it's definitely the same game
– 1-2 players
– Another Igavania
Mad World (Wii) – Platinum Games
– black and white game world, red blood
– action game with 'comical' ultra-violence
– "Cheerful violence" and "Curb Brawler"
– main character carries the burden of his past on his shoulders, and must deal with his killing ways
– Director – Shigenori Nishikawa
– no official Japanese release date at this time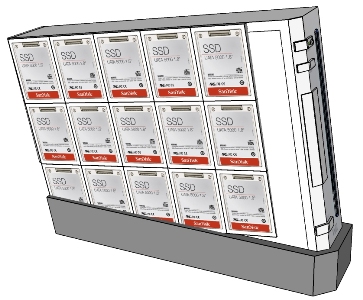 It was not so long ago that Satoru Iwata explained that Nintendo needs to investigate a "possible storage solution" for the "small number of customers who feel that the flash memory is too small." An additional representative has recently reinforced Iwata's words, claiming that Nintendo is looking for ways to rectify the issue.
Meanwhile, the same representative noted that no Wii demos – including WiiWare demos – are on the way, in spite of many people's wishes. Considering the lack of a hard drive, any attempts to download such data would most likely use up nearly the entire flash memory on the system.
Even though no demos of games are planned, perhaps Nintendo could modify their policy if a hard drive was released.


Nintendo will release the highly anticipated Super Smash Bros.™ Brawl 26 June 2008. The first Super Smash Bros. for Wii™ is an action packed fighting game that includes more moves, more levels, online battles, Nintendo Wi-Fi Connection, a variety of control options, a host of playable characters, and even an adventure mode that's a full game in itself!

Super Smash Bros. Brawl is a game play experience where characters from around the Nintendo universe meet up in Nintendo locales to battle it out. Choose from a number of iconic and new characters including Mario, everyone's favourite plumber; Meta Knight, the sword-wielding nemesis of Kirby; Pit, the angelic archer from Kid Icarus™; Zero Suit Samus, the powerful Metroid® series heroine; Sonic the Hedgehog from SEGA®, and Solid Snake the solider from Konami's Metal Gear series, among a host of others.

Jump and brawl your way through the Nintendo themed stages; pit up to four players against one another in a brawl to see who is the last one standing. Thanks to the Nintendo Wi-Fi Connection you can brawl with friends or strangers, share photos, swap replays, team up for challenging mini-games, and send custom made stages or screenshots to friends.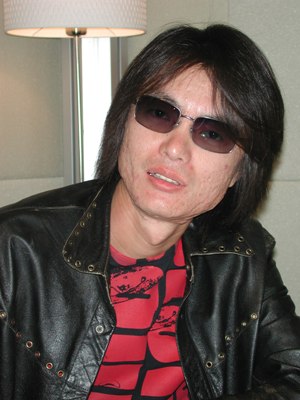 Tomonobu Itagaki, the creator of Ninja Gaiden, specficially mentioned to Kotaku that he would be interested in something…
"…totally new, completely unrelated to anything I've done before. Not any part of any existing franchises. I think the Pacific theater of World War II is a interesting topic. I think it would be cool to work with an American developer and do a game based on the Pacific Theater."
It is a bit sad to know that Itagaki wants to move on, but at least we'll be able to see how he can approach an entirely new game/franchise.


30 – PS3
30 – Xbox 360
Over 20 – Wii
18 – DS
8 – PSP
30 – PC
15 – PS2


13th May 2008 – The opportunity to create the next groundbreaking video game for Wii has well and truly arrived for developers as WiiWare hits Europe, launching on 20 May 2008. Developers, no matter how big or small, will be able to create exciting new downloadable games to be sold through the Wii Shop Channel. Changing the way developers create Wii games and players access them, WiiWare will make it possible for smaller, creative titles to take centre stage. Developers will be able to see their big ideas step into reality, without risk or the need for a big budget.

With WiiWare games, the possibilities are endless – only limited by the imaginations of the developers. Expect to see a raft of new, fresh and original games head to Wii from an entire range of genres. Utilising the Wii's unique control methods from the Wii Remote and Nunchuk to potentially the Wii Balance Board and Wii Wheel, developers have the freedom to create the game of their dreams in an affordable way, with low entry barriers and flexible criteria in front of them. Such is the opportunity that, already developers who have never created or published games for Nintendo are working on a host of potential ideas.

Laurent Fischer, Managing Director of Marketing & PR of Nintendo of Europe comments, 'We are excited by the positive response we have received from third-party developers to the announcement of WiiWare. We hope that this opportunity and the inspiration to produce original and exciting games will allow developers of all sizes to bring new concepts, genres and game play experiences to Wii. Opening this creative door will also provide Wii users access to a huge choice of games that they can easily download and enjoy.'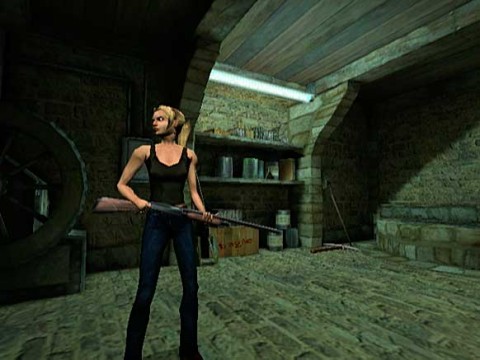 "There is a chance; we love all the games we work on. We don't want to be pigeon-holed [into a genre], we want to be known for strong content…There's a strong chance we'll return to it, but there's no announcements yet." – Denis Dyack,Silicon Knights


AGOURA HILLS, Calif.–(BUSINESS WIRE)–May 13, 2008–THQ Inc. (NASDAQ: THQI) today announced that Viva Pinata(R): Pocket Paradise(TM) is scheduled for release this fall for Nintendo DS(TM). The game is based on Microsoft Game Studios' highly-rated original Viva Pinata game for Xbox 360(R) video game and entertainment system from Microsoft. Viva Pinata: Pocket Paradise features an array of content exclusive to Nintendo DS and an intuitive control scheme designed to take full advantage of the DS touch screen and stylus, making it a breeze to navigate through the garden.

"Nintendo DS is the perfect platform for the Viva Pinata franchise because players can have direct interaction with the environment and their pinatas using the stylus," said Bob Aniello, senior vice president of worldwide marketing, THQ. "We are thrilled to introduce Microsoft's critically-acclaimed Viva Pinata series to an entirely new segment of the gaming community."


It hasn't even been two years since the Wii was released in America, yet Game Informer believes we could see a new Nintendo console in 2010. Analysts, meanwhile, have thought the Wii could last up to seven years. Considering the enormous success of Nintendo's console, releasing a new system in 2010 would not be the wisest move. Nintendo may have used up many of their franchises already, but there are still many opportunities Nintendo can take advantage of.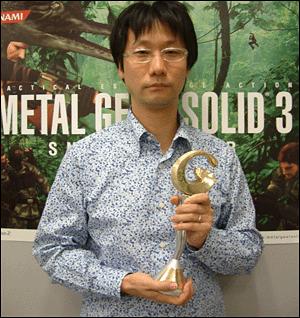 As development on Metal Gear Solid 4 for the PlayStation 3 comes to a close, Hideo Kojima, the head honcho of the Metal Gear Solid series, has offered some insight into the future. At the ceremony for MGS4's completion, Kojima candidly admitted that a title is in development for the hardcore gamer. Details about the game were not discussed. However, given Kojima's credibility in the gaming industry, it would not be difficult to assume that his newest game will be fantastic.