This month's GamesTM review scores are as follows:
Ni no Kuni – 8
Planetside 2 – 9
Natural Selection 2 – 8
The Walking Dead – 9
Guardians of Middle-earth – 8
DmC Devil May Cry – 9
Baldur's Gate: Enhanced Edition – 9
Uncharted Fight for Fortune – 6
Pid – 6
Ace of Spades – 4
Warriors Orochi 3 Hyper – 3
Forge – 8
Grand Theft Auto: Vice City iPad – 6
The Walking Dead: Assault – 6
Ratchet & Clank: Q-Force – 5
Rabbids Land – 5
Air Buccaneers – 7
FLY'N – 8
Middle Manager of Justice – 7
Black Knight Sword – 6
Aero Porter – 7
Skyrim: Dragonborn DLC – 8
Mass Effect 3 Omega DLC – 5
Little Inferno – 7
Thanks to joclo for the tip.










This week's Nintendo Download includes the following featured content:

Nintendo eShop on Nintendo 3DS
Fire Emblem Awakening – Demo Version – Lead an army of knights, mages, archers and other classes into battle to defend a fantasy world teetering on the brink of war. Your army, which grows as the game's epic story progresses, is composed of a brave group of memorable characters with unique abilities. Just plan your attacks carefully – the lives of your soldiers and the future of the world depend on it. The full version of Fire Emblem Awakening launches exclusively on Nintendo 3DS on Feb. 4.

Tokyo Crash Mobs – You need fast reflexes and an eye for strategy to succeed in this puzzle game. In Tokyo Crash Mobs, you must toss bystanders into lines of people, grouping three or more who wear the same color to make them disappear. Eliminate the lines as fast as you can to win. With two modes, this game has you covered, whether you're looking for quick play sessions or endurance challenges.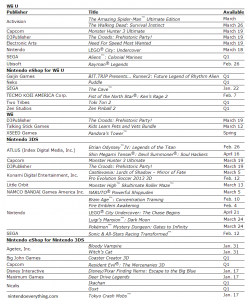 Nintendo has sent out a new release schedule for North America that reveals numerous release dates for upcoming games on its platforms. The graphic above confirms release dates for LEGO City: Undercover, Monster Hunter 3 Ultimate, Luigi's Mansion: Dark Moon, and more. Nintendo additionally revealed "LEGO City Undercover: The Chase Begins", a 3DS prequel to the Wii U game, which "follows the exploits of Chase McCain as a rookie cop."
Also worth mentioning: Game & Wario, The Wonderful 101, Pikmin 3 and Wii Fit U are all scheduled to arrive in the first half of the year.
The graphic above shows the full lineup of dates. Head past the break for the official news straight from Nintendo.


Zen Studios has been working on downloadable content for its 3DS eShop games for a long time. A really long time, in fact.
The company hasn't said much about DLC in recent months, but it's still on the way. Zen Studios shared the brief update on Twitter and also noted that a release date for Zen Pinball 2's Wii U eShop release is coming soon.
@frapril 3DS DLC is still coming. Just finalizing the Wii U version and we should have our release date any day now 🙂

— Zen Studios (@zen_studios) January 16, 2013




Renegade Kid has priced its next 3DS eShop title. ATV Wild Ride, expected to hit the store in March, will cost $7.99 according to co-founder Jools Watsham.
Watsham additionally confirmed that a demo will not be released. When asked about the decision, Watsham tweeted:
@0xtw @williammschneid Our decision. Takes a lot of extra time and resources to make a separate demo.

— Jools Watsham (@JoolsWatsham) January 15, 2013