D3Publisher has a peculiar game in development for the Japanese 3DS eShop. Just read the title and you may get a brief understanding as to what this one is about: "@Simple DL Series: Vol. 7: Assault the Cheating Boyfriend!".
Yes, this download is all about cheating boyfriends. You find evidence and confront the cheaters.
Sound fun? Here's what you can expect:
– Play as a girl who thinks her boyfriend is cheating
– Search his home for evidence
– Adventure game-like elements
– Use evidence to point out contradictions in your boyfriend's story
– 3DS gyroscopic sensor used to throw items at your boyfriend
– Hold L+R and shake the 3DS to do so
– 4 boyfriends to defeat: Masato (23 years old), Seiji (27), Toru (18), and Toshio (?)
– Masato: meet him in the city where he picks you up with his sociable personality
– You unintentionally let your guard down and start dating Masato
– Because of your busy schedules you only see each other once a month and you see Masato walking with another woman
– Each boyfriend has his own story and multiple endings depending on how you fare in the confrontation portion
@Simple DL Series: Vol. 7: Assault the Cheating Boyfriend! Caught You Red Handed will be available on the Japanese 3DS eShop on January 30 for 300 yen.


Straight from the creator's mouth, Bertil Hörberg has confirmed that Gunman Clive's 3DS eShop release has outsold the iOS version.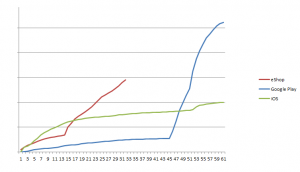 Gunman Clive launched on iOS back in April. The 3DS version, on the other hand, has been out on the European eShop for only a month and the North American store for just two and a half weeks.
For now, the Android release remains the best-selling version. But most sales on the platform sales stem from a featured promotion which has since ended, and the 3DS edition is still a very new game on the eShop.
There's more talk about Gunman's Clive's sales here.


This week's European Nintendo Downloads are as follows:
Wii U eShop download
The Cave – €12.99 / £9.99
Wii U demo
The Cave
Sonic & All-Stars Racing Transformed
Wii U sale
Mighty Switch Force! Hyper Drive Edition – 30% off until Feb. 7 – now €6.99 / £6.29
Wii U retail
Marvel Avengers: Battle for Earth – €49.99 / £39.99
WiiWare
Babel Rising – 500 Wii Points
3DS download
Picross e2 – €4.99 / £4.49
35 Junior Games – €4.99 / £4.49
DSiWare
Snowboard Xtreme – €1.99 /£1.79 / 200 DSi Points
3DS update
Nintendo presents: New Style Boutique – free


In order to become an indie developer on Nintendo platforms, certain requirements must be met. For instance, a dev must maintain a dedicated business place. Studios can't receive kits without meeting this criteria.
Interestingly, it seems that Nintendo could be abandoning the requirement.
Take a look at this tweet from Nintendo of America's Dan Adelman:
@daxhalo @spiltmilkstudio Ask me again in a couple weeks. 😉

— Dan Adelman (@Dan_Adelman) January 19, 2013
The tweet above coupled together with others rumor suggest that Nintendo may allow indie devs to make titles for its platforms without having an office space. That would only lead to a better situation for fans – it means more games!


Listings on the 3DS eShop have provided release dates and prices for a few upcoming games. Most notable, we now have a confirmation that Ikachan is launching on January 31 for $4.99 / 500 points.
Below is the list in full:
January 24
Cocoto Alien Brick Breaker (3DS Download) – $4.99
Ghost Recon: Shadow Wars (3DS retail) – TBA
January 31
Ikachan (3DS Download/DSiWare) – $4.99 / 500 points
February 4
Fire Emblem: Awakening (3DS retail) – $39.99
Source: 3DS eShop






This month's GamesTM review scores are as follows:
Ni no Kuni – 8
Planetside 2 – 9
Natural Selection 2 – 8
The Walking Dead – 9
Guardians of Middle-earth – 8
DmC Devil May Cry – 9
Baldur's Gate: Enhanced Edition – 9
Uncharted Fight for Fortune – 6
Pid – 6
Ace of Spades – 4
Warriors Orochi 3 Hyper – 3
Forge – 8
Grand Theft Auto: Vice City iPad – 6
The Walking Dead: Assault – 6
Ratchet & Clank: Q-Force – 5
Rabbids Land – 5
Air Buccaneers – 7
FLY'N – 8
Middle Manager of Justice – 7
Black Knight Sword – 6
Aero Porter – 7
Skyrim: Dragonborn DLC – 8
Mass Effect 3 Omega DLC – 5
Little Inferno – 7
Thanks to joclo for the tip.