Arc System Works has a new River City Ransom title in the works. Famitsu has a first look at the downloadable entry this week.
Players will control of the series' main rival Riki in Riki Densetsu. He used to be a star player for his school's soccer team, but was issued a suspension after a revenge beat-down. You see, Riki wasn't pleased that half of his own team was attacked by a rival school before one of their big matches. As a result, he decided to get some revenge.
Riki is now a complete delinquent. In the game, he'll take on a Mushamonzen which is led by Okada.
Screenshots posted in Famitsu imply that Riki Densetsu will be a typical River City Ransom. It features side-scrolling gameplay and IP's classic art style for characters.
Riki Densetsu will be released on December 12 for the Japanese 3DS eShop for 800 yen.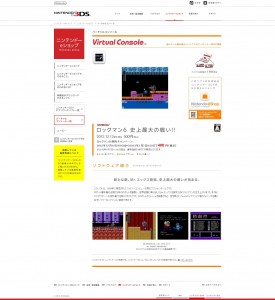 Summer Carnival '92 will be hitting the Japanese eShop as a Famicom download on December 12 for 500 yen. Screenshots of the game can be found above.


Game Freak's 3DS eShop title HarmoKnight will be coming to the North American eShop. The news was shared during today's Nintendo Direct. While no specific date was announced, gamers will be able to experience this title in the near future.


This week's European Nintendo Downloads are as follows:
Wii U Download
Mighty Switch Force! Hyper Drive Edition – €9.99 / £8.99
Wii U retail
Funky Barn – €49.99 / £39.99
Wii U app
LOVEFiLM – free
3DS Download
The "Denpa" Men: They Came by Wave – €7.99 / £7.19
3DS retail
Paper Mario Sticker Star – €44.99 / £39.99
3DS DLC
New Art Academy – €1.99 / £1.79
· Paint Like Van Gogh
· Reflections
3DS Download
2 Fast 4 Gnomz – €4.99 / £4.49
3DS eShop video
The 3D Machine Series – €0.99 / £0.89 per episode
The Incredible Barbazan – €0.99 / £0.89 (price reduction)
DSiWare
Christmas Wonderland 2 – €7.99 / £7.19 / 800 points
Wii VC
The Last Blade 2 – 900 points
Source: Nintendo PR


Square Enix has a new Dragon Quest X tie-in project in the works for the 3DS eShop. The title, called "Dragon Quest X: Odekake Moshasu de Battle", is a card battle game.
Dragon Quest X: Odekake Moshasu de Battle takes advantage of the 3DS camera so that people's faces can be transformed into monster cards. Players use cards at their disposal to take on monsters found in Dragon Quest X. Over 300 monsters are included in the game.
Another gameplay tidbit concerns "lucky tidbits". Users can earn these tokens throughout the experience and, in turn, can change into various "prize items" in Dragon Quest X.


Nintendo's different online shops are experiencing maintenance today. The Wii U and 3DS eShops, Wii Shop Channel, and DSi shop are all seeing downtime. Maintenance will be completed by 7 PM PST / 10 PM EST.
Could this be related to tomorrow's Nintendo Direct? Or is this just routine stuff?


Urban Trial Freestyle is coming to the 3DS eShop, Tate Multimedia S.A has announced. The game is due out in early 2013.
Players can expect an action bike racer containing five 3D urban environments, each with contorted terrain and ramps, background animations, and moving objects. The game also contains different game modes, leaderboards, rider and bike customization, and trophies. And unsurprisingly, stunts are a big part of the title.
Look forward to more information about Urban Trial Freestyle soon.