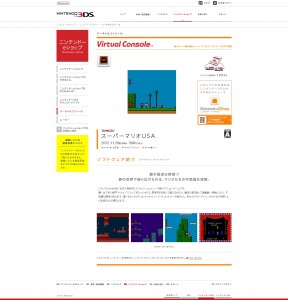 Super Mario Bros. 2 will be hitting the Japanese eShop as a Famicom download on November 28 for 500 yen. Screenshots of the game can be found above.




This week's European Nintendo Downloads are as follows:
3DS retail
Pilotwings Resort – £39.99 UK Only
3DS Download
Dress To Play: Cute Witches! – £3.59
PIX3D – £3.59 UK Only)
3DS DLC
New Art Academy – £1.79 each
Drawing Birds lesson
Illumination lesson
DSiWare
Spirit Hunters Inc: Shadow -£7.19 / 800 points
Spirit Hunters Inc: Light – £7.19 / 800 points
Wii VC
The King of Fighters '96 – 900 points
Source: Nintendo PR


The next entry in the Guild01 series, Aero Porter, will be hitting the North American and European 3DS eShops later this month. In both continents, the game launches on November 29.
Aero Porter is priced at $4.99 / €4.99 / ₤4.49.
Source: Level-5 PR