Shin'en has been saying for awhile now that it wants to get Nano Assault EX out this year. That's still the plan, according to a message posted on the studio's Twitter account.
The company posted the following when asked about the status of Nano Assault EX:
"Nano Assault EX should be available on the eShop in a few weeks, hopefully still in 2012."






Remember Nintendo's 8-bit Summer promotion? Sonic Labyrinth and Sonic Blast were originally intended to be released during the time of its campaign, but neither game landed on the 3DS eShop.
That should be changing soon. The eShop has been updated and both titles are said to be coming soon. Each will cost $4.99 when they are finally made available.


Unchained Blades came out on North American PSN (PSP) months ago. The 3DS eShop version, however, has been in limbo.
Publisher XSEED says it is "struggling" to release the 3DS edition. Having said that, the company hopes to finally launch the game next month.
And what about the sequel, Unchained Blades Exiv? Once the original game comes out on the eShop, XSEED may begin to consider localizing on the follow-up.




This week's Nintendo Download includes the following featured content:

Nintendo eShop

Crashmo™ – Embrace the laws of gravity with a whole new kind of action-puzzle play in this exciting sequel to the critically acclaimed Pushmo™ game. New gravity mechanics and gadgets like floating blocks, doors and move switches await players ready for a challenge. (For Nintendo 3DS™)

Zelda II™: The Adventure of Link™ – Link™ returns to Hyrule on a quest to find the Triforce of Courage and awaken Zelda™ from an endless sleep. Learn magic spells, talk to people in towns to get clues, collect items to increase your power and explore seven palaces where the underlings of the evil Ganon await you. (For Nintendo 3DS)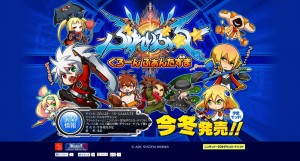 Arc System Works opened a teaser site for BlayzBloo: Clone Phantasma. Take a look at the page here.
There's nothing to see yet aside from a bit of artwork, but look forward to updates in the near future.


This week's Japanese 3DS eShop update is as follows:
3DS Downloadable Titles
Rental Bukiya de Omasse (from Guild 01) – 800 yen
Virtual Console
Pac-Man (Famicom) – 500 yen
Video Content
Paper Mario: Sticker Star videos and commercials
Professor Layton vs .Ace Attorney commercial
Nintendo Land commercials


There are no plans at the moment to bring Braid to the 3DS eShop. But Wii U? That's a slightly different story.
Although main designer Jonathan Blow says "we are really busy right now", he has left the door slightly open for a possible Wii U eShop version sometime down the line.
Blow tweeted:
"Braid: 3DS, no. Wii U, maybe sometime in the future but we are really busy right now."